Spring 2015 Catalyst Programs
CIRCA Catalyst is an ongoing series promoting conversations around transdisciplinary and interdisciplinary research that fuses the performing and visual arts with other fields of inquiry and scholarship. A catered lunch, with vegetarian options, will be provided by CIRCA.
UMB – UMBC CIRCA Catalyst: Dr. Bruce Jarrell and Lee Boot
Monday, May 18, 2015     
3:00 – 4:00 PM

UMB Health Sciences and Human Services Library, Gladhill Boardroom, 5th Floor, 601 West Lombard Street, Baltimore, MD 21201  
UMB-UMBC Catalyst Program:
Catalyst is an ongoing series promoting conversations around transdisciplinary and interdisciplinary research that fuses the performing and visual arts with other fields of inquiry and scholarship. Catalyst is a long-standing program at UMBC that we now launch in a cooperative series with the UMB Council for the Arts & Culture. UMB-UMBC Catalyst events will showcase the growing partnership between UMB and UMBC researchers.
LEE BOOT, MFA
Lee Boot is an experimental media artist and researcher exploring new ways to represent knowledge in human environments, with a focus on digital domains. He serves as associate research professor and associate director at the Imaging Research Center at the University of Maryland, Baltimore County (UMBC). Boot's research has produced innovative film, video, and real-time interactive works to help audiences connect with and co-create knowledge in the humanities, sciences, and arts to stimulate new thinking on education, health, and social challenges. During the past two decades his work has been broadcast, screened, published online, and exhibited nationally and internationally at venues including the National Academies of Science, the Johannesburg Biennial, and London's Serpentine Galleries.
BRUCE JARRELL, MD, FACS
As the chief academic and research officer, Bruce Jarrell is the focal point for all such matters at the University of Maryland, Baltimore (UMB). When he's away from UMB, however, aside from his family, his passion for metalsmithing takes center stage. In his shop at his home in Severna Park, Jarrell has turned out many impressive projects, some that currently beautify UMB and its ceremonial events. In 2012, Jarrell teamed up with Ukrainian blacksmith Anatoliy Rudik to create a metalwork art piece that fills two second floor windows of the University's Southern Management Corporation Campus Center. The treelike piece is based upon the Davidge Elm, a majestic tree that before its death a decade ago stood for nearly 200 years outside Davidge Hall.
CIRCA Catalyst: Michael Fallon and Jenny O'Grady
Wednesday, April 15, 2015    
Noon – 1:00 PM
Dresher Center Conference Room, PAHB 216
Catalyst Program:
UMBC Director of Marketing Jenny O'Grady and UMBC Senior Lecturer and poet Michael Fallon will present on their recent works interweaving art and poetry.
Michael Fallon set himself the task of writing a book of poems inspired by his own spontaneous photographs taken on walks with his wife, Ruth, and chose the most interesting shots from these walks, be they of discarded plastic bottles, water meters, tree trunks, his and Ruth's shadows, or reflections of clouds, forest and sky. Fallon will recite the poems while the corresponding photographs are projected on a screen.
Jenny O'Grady edits The Light Ekphrastic, a quarterly journal that pairs writers and artists from all over the world to create new works online and for public spaces. In March of 2015 O'Grady will pair sixty-six Baltimore-area writers and artists for a special edition of The Light Ekphrastic published online and via the Baltimore LED Art Billboard. In addition to sharing some favorite works from the past five years, she will discuss some of the many routes her participants take as they go from being strangers to collaborators.
Program Overview
CIRCA Catalyst promotes engaging conversations around transdisciplinary and interdisciplinary research. These informal one hour presentations feature work that fuses the performing and visual arts with other fields of investigation and scholarship. Catalyst events are geared toward sharing work, and building dynamic conversations that may seed ideas and future collaborations.
Exciting creative arts research is taking place at UMBC that sees our faculty working in Baltimore, the region that sustains us, and with national and global partners and venues.
Catalyst events are presented in the Dresher Center conference room PAHB 216. All Catalyst events are open to the public – we benefit from engagement across the disciplines and with new audiences.
CIRCA is located in Performing Arts and Humanities Building 223, and showcases the work of faculty in Dance, Music, Theater and Visual Arts through an intimate gallery and screening setting.
Past Catalyst Events 
CIRCA Catalyst: Stephen Bradley and Lisa Cella

Wednesday, March 25, 2015
UMBC Associate Professors Stephen Bradley, Visual Arts and Lisa Cella, Music presented on their recent collaborative "deep-listening – deep seeing" performance, combining video projection and flute performance. Steve Bradley's time-lapse video work explored a meditative perspective that featured quotidian events. Bradley's visual "curiosity of motion" was interwoven with contemporary solo flute works composed for, and performed by, Lisa Cella.
CIRCA Catalyst: Neja Tomšič and Jaimes Mayhew
November 6, 2014, Noon-1:00 PM
Jaimes Mayhew presented his current body of work, The Autonomous Energy Research Lab, which started as a project for a Fulbright Grant in Iceland in 2011 connecting  the landscapes of Iceland and those of the southwestern US that awakened his interest in the relationships between queer bodies and landscapes, memory and rural culture. Neja Tomšič a Slovenian artist, and the first CEC ArtsLink artist-in-residence hosted by UMBC's IMDA MFA Program, discussed the Museum of Transitory Art (MoTA), a multidisciplinary platform dedicated to the research, production and presentation of transitory, experimental and live art forms. 
CIRCA Catalyst: Cathy Cook, Visual Arts and Lynne Parks, Independent Artist
Monday, October 20, 2014 Noon-1:00 PM

Cathy Cook presented The Cranes in Motion Project, a collection of several hybrid media projects created at the Imaging Research Center that document, explore and artistically interpret the fascinating dynamics of crane culture in an effort to understand this unique species and our shared ecosystems. Lynne Parks is a Baltimore-based artist, environmental activist, and volunteer for Lights Out Baltimore. Her award winning photographs of birds draw our attention to how current building design practices exact fatal consequences on these creatures.
Colette Searls, Department of Theatre and Lynn Tomlinson, Towson University
Thursday, May 8, 2014, 4:30 – 5:30 PM
The collaborative team presented virtual puppetry controlled by iPad for the stage and screen.
Jan Baum, 3D Maryland and Eric Dyer, Department of Visual Arts
Monday, May 5, 2014 Noon – 1:00 PM
Baum and Dyer surveyed the transformational work taking place with rapid prototyping and 3D printing, and shared dynamic new animations made with 3d output set into motion.
Steve Bradley, Visual Arts and Nicole King, American Studies
Monday, April 28, 2014
Bradley and King presented their collaborative Mapping Baybrook project, an interdisciplinary exploration of place that used digital mapping to illustrate research on the history and culture of an industrial community in Baltimore, Maryland referred to as Baybrook—a merging of the names of two neighborhoods, Brooklyn and Curtis Bay.
Linda Dusman, Department of Music  and Eric Smallwood, Department of Visual Arts
Wednesday, February 26, 2014
Dusman and Smallwood spoke on "Symphony Interactive" a tablet-based guide to the symphony experience.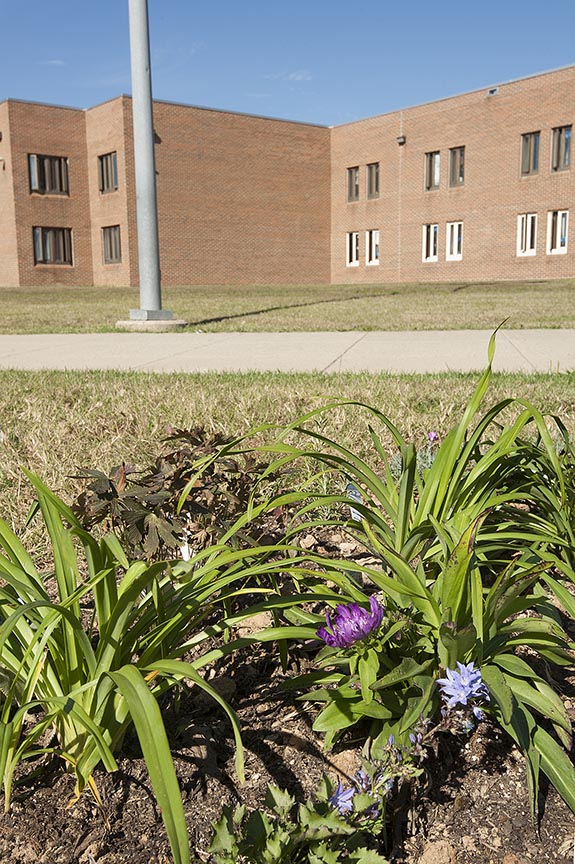 Chris Swan, Geography and Environmental Systems and Lynn Cazabon, Visual Arts
Monday, November 11, 2013
Dr. Chris Swan and Associate Professor Lynn Cazabon presented the first CIRCA Catalyst event discussing their ongoing work set in prison gardens in Maryland.
Links: http://biodiversity.umbc.edu/          http://lynncazabon.com