Fall 2019 Catalyst Events:

CIRCA-IMET Catalyst – Art and Science Collaborations on Climate Justice and a Living Ocean
Friday, September 27, Noon – 2:00pm
Location: Performing arts and Humanities Building, PAHB 428
Free, catered event, with good vegetarian options

CIRCA-IMET will be co-hosting this event with Ocean Space, Venice, Italy, in coordination with a convening led by Chus Martínez, Curator, Director of Institut Kunst in Basel, ocean-archive.org, and TBA21–Academy. Operating at the intersection of scientific inquiry, artistic intelligence, and environmental advocacy.
Moderator:
Dr. Kathleen Cusick, Assistant Professor, Department of Biological Sciences, UMBC
Panelists:
Dr. Tsvetan Bachvaroff, Research Assistant Professor, University of Maryland Center for Environmental Science
Lisa Moren, Professor, Visual Arts Department, UMBC
Dr. Eric Schott, Associate Research Professor, University of Maryland Center for Environmental Science
Stephen Bradley, Associate Professor, Visual Arts Department, UMBC
Spring 2019 Catalyst Events: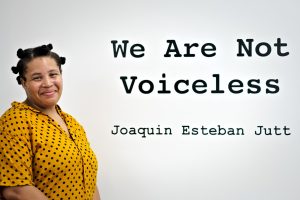 CIRCA Catalyst – Joy Davis and Phil Davis
Wednesday, February 6⋅4:00-5:00pm
PAHB 216
Joy Davis is a scholar and curator, the director of Waller Gallery and the co-producer of Unravel Podcast. Her work transcends many fields of study, which includes: fashion, history, art, media, and performance among people of color through history. Her current research focuses on fashion and race analysis in Spanish colonial paintings. She splits her time in the Baltimore/DMV area and New York City. She has spoken at Johns Hopkins University, LIM College, the Costume Society of America, and more. With Waller Gallery and Unravel Podcast she works to break down the institutions and disseminate information to the community.
Talk Description:
How do you create space for artists, ideas, and community engagement? These are key questions to ask oneself about starting and maintaining a gallery and community center. Scholar and curator, Joy Davis, will discuss the process timeline of starting a new, black owned gallery in Baltimore, MD.
Phil Davis is an animator, filmmaker, sound artist and curator residing in Baltimore. He was born and raised in rural New Hampshire where he learned to throw rocks, climb trees, and collect insects. He has a BFA in Film Art from Syracuse University and a MFA in Imaging and Digital Arts from the University of Maryland, Baltimore County. His films, music videos, and animations have screened and won awards at a number of international film festivals. Phil is the founder and curator of Sweaty Eyeballs Animation, a screening series of eccentric and cutting edge animation started in 2012. He is currently a professor in the department of Art + Design at Towson University where he teaches animation and digital art courses.
Talk Description:
Phil Davis is the founder and head curator of Sweaty Eyeballs Animation, a screening series in collaboration with the Maryland Film Festival and Parkway Theatre. The screening series started as an annual invitational, featuring ground-breaking work in animated short film. In 2017 the annual screening expanded to a monthly screening series at the Parkway Theatre with programs ranging from themed animated shorts, guest artists/curators, and feature-length animated masterpieces. Phil will talk about his work curating animation programming along with successes and failures in helping establish a vibrant animation community in Baltimore.
CIRCA Catalyst: Amy Cavanaugh and Doreen Bolger 
March 6, Dresher Center, PAHB 216
Noon-1:00
Program: The presenters will discuss the evolution of curatorial work over forty years, beginning in the 1970s with Bolger's work on historic American Art, continuing with Cavanagh's efforts with living artists, and concluding with their recent collaboration on MAP's 2018 exhibition Repurposed with Purpose: Making and Meaning in the Materials of Art. They will consider substantial changes in curatorial intention, from sometimes esoteric art historical research to community impact and engagement, and comment on opportunities and challenges offered by technology and its innovations.
Amy Cavanaugh,the niece of color-field artist James Hilleary and daughter of sculptor Carolyn Cavanaugh, Cavanaugh was born in Washington, DC, and trained there as a classical cellist at Catholic University of America. She then toured and worked in the recording industry, playing with the instrumental band, Yeveto, composers of experimental rock music. In 2004, Cavanaugh joined Washington's ARCH Development Corporation as Vice President and Chief Operating Officer. There in 2007 she opened the Honfleur Gallery, now recognized as one of the region's leading platforms for emerging and mid-career local, national, and international artists. In 2012, she became the Executive Director of Maryland Art Place (MAP), the anchor arts organization in Baltimore's Bromo Tower Arts and Entertainment District. MAP places emerging and mid-career artists in the spotlight with professionally-staged exhibitions and programs as well as community outreach. In 2014, Cavanaugh boldly returned MAP to its original home, a five-story historic building on Saratoga Street, after some peripatetic years, most spent in the Inner Harbor.
Doreen Bolger retired in 2015 after 17 years as Director of The Baltimore Museum of Art, a center for 19th-century, modern, and contemporary art, where she redefined its artistic focus, placing greater emphasis on its world-class collection; initiated major traveling exhibitions; expanded educational programs; and eliminated general admission fees. She also led a major BMA renovation, including the transformation of galleries and essential infrastructure, improved visitor amenities, and the addition of a new education center that offers creative experiences for visitors. Bolger, a supporter of the city's emerging art scene, plays a leadership role in the region's cultural community, serving on the boards of the Creative Alliance and Maryland Citizens for the Arts. She was previously Director of the Rhode Island School of Design Museum, Providence, and served as a curator at the Amon Carter Museum, Fort Worth, TX, and The Metropolitan Museum of Art, NY. Bolger received her Ph.D. from the Graduate Center of The City University of NY, M.A. from the University of Delaware, Newark, and B.A. from Bucknell University, Lewisburg, PA.
Fall 2018 Catalyst Events:
CIRCA Catalyst: Joan Kelly, Nanyang Technological University, Singapore and Renée Lambert-Bretière, MLLI, UMBC
Wednesday, October 10, noon – 1:00 PM
PAHB 216, Dresher Conference Room
Joan Marie Kelly, Nanyang Technological University, School of Art Design and Media, is a practicing artist, exhibiting and publishing internationally. Her creative work emanates from ethnographical practices such as "fieldwork". She is a social art practitioner implementing participatory art workshops since 2009 with sex workers in Kolkata India as the founder of 'The Kolkata Women's Dialogue.' She works to sustain endangered languages with three linguists, Lauren Gawne, Alexander Coupe and Frantisek Kratochvil. In each linguist's focus area she creates artistic engagement with members of the host communities. The focus of the workshops is to expose and gain understanding of visual iconography embedded in the culture of the host community. Joan teaches at Nanyang Technological University, School of Art Design and Media in Singapore, since 2005.
Dr. Renée Lambert-Brétière is Assistant Professor of Linguistics and French at University of Maryland, Baltimore County. Her research focus is on the relationship between language and culture, and on fieldwork-based documentation and description of lesser-known languages, from a typological discourse-based functional and cognitive linguistics perspective. She works on languages exhibiting very different typological profile, ranging from a mildly agglutinative language where meaning plays a large role in the grammar (Kwoma, East Sepik Province of Papua New Guinea), to a polysynthetic language exhibiting an intricate morphological system (Innu, Northeastern Quebec and Labrador in Canada), to an isolating language making use of complex syntactic constructions (Fon, Republic of Benin), and to languages formed by the contact between West-African languages and European languages (Caribbean Creoles).
Spring 2018 Catalyst Events:
CIRCA Catalyst: Professor Stephen Bradley, Visual Arts, and Dr. Tagide deCarvalho, Director of the UMBC Keith Porter Imaging Facility
Monday, May 7, 12 – 1pm, PAHB 216 (lunch provided)
Professor Stephen Bradley, Visual Arts, and Dr. Tagide deCarvalho, Director of the UMBC Keith Porter Imaging Facility, will discuss their work-in-progress, Water's Edge, Biome Tells. WEBT focuses on the cultivation and identification of microorganisms found on debris; i.e., plastic, microfiber and other unnatural materials collected within the littoral zone of the brackish shoreline of the Patapsco River's Middle Branch at Masonville Cove in the Brooklyn community of Baltimore. For this interdisciplinary art project the collaborators incorporate various tools of ecological research and artistic experimentation to image 2D & 3D replicas of these organisms that will be integrated into larger sculptural forms that raise awareness and reveal the complexity, beauty, and diversity of life in the urban shoreline. This project is made possible by support from the Masonville Cove Environmental Education Center and a UMBC CIRCA research grant, begun in the summer of 2017.
Stephen Bradley
Trans-disciplinary artist Stephen Bradley's primary practice maps and traces our relationship to place through recorded electronic media, our stories juxtaposed with artifacts discarded or lost within the landscape. Currently Bradley artist-in-residence at the Chesapeake Arts Center adjacent to this community collaborates with stakeholders involved in interdisciplinary forms of civic engagement. Bradley is an Associate Professor in the Department of Visual Arts at UMBC.
Professor Bradley has received solo commissions, awards and fellowships from the National Endowment for the Arts, Maryland State Arts Council, Sonic Circuits VII: Walker Art Center, Inter-Society for the Electronic Arts (ISEA), Museum of Contemporary Art Kiasma – Helsinki, Blauschimmel Atelier – Oldenberg, Germany, Bienal de Arte Contemporaneo de Sevilla, Biacs3 – Spain, Wave Hill – Bronx, NY, and Hull Time-Based Arts – UK. His sound performances, media installations, and site-specific art works have been exhibited and presented nationally and internationally venues such as the National Trash Summit – Nationals Stadium – Washington D.C., Sandao Gallery, Xiamen University and VArts Center – Shanghai, China, radioCona FM – Ljublijana, Solvenia, InterAizoni Festival – Sardinia, Italy, Kunstradio ORF1 – Vienna, Austria, (((NOMUSIC))) – Strasbourg, France, 2006 Soundscape – Zürich, Switzerland, Transmission 003.3: Sound Art Festival – Chicago, Smithsonian Institute – Washington, D.C., Visual Arts Museum/SVA, Pulse Art, and Ricco Maresca Gallery – NYC, Megapolis Sound Art Festival, Red Room, the Vine, Contemporary Museum, Baltimore Museum of Art and Maryland Art Place – Baltimore, Maryland. Bradley created seven video works for music composed for Lisa Cella, flautist, that will be released and distributed by Chen Li Music label, Spring 2018.
URL // urbantells.net 
Tagide deCarvalho
Dr. Tagide deCarvalho is an Assistant Research Professor in the College of Mathematical and Natural Resources, where she manages the Keith Porter Imaging Facility. This core facility provides microscope instrumentation for biological and materials science research. In this position, Dr. deCarvalho is able to utilize her extensive background in biology and digital imaging. She supports all aspects of research, including experiment development, specimen preparation, equipment training and digital image processing. Dr. deCarvalho comes to UMBC from Georgetown University, where she was teaching faculty in the Department of Biology. Her expertise in microscopy was acquired during her NIH postdoctoral research fellowship at the Carnegie Institution for Science in Baltimore, where she studied neural development in transgenic zebrafish. This was a radical departure from her graduate studies on insect behavior and speciation at the University of Maryland, College Park. Before she began her career in biology, she studied the visual arts at the University of New Mexico. She is currently producing "SciArt" by combining her expertise in microscopy, digital imaging and art photography.
CIRCA Catalyst is an ongoing series promoting conversations around transdisciplinary and interdisciplinary research that fuses the performing and visual arts with other fields of inquiry and scholarship.
See the CIRCA archive for a list of past programs.