Past CIRCA Catalyst events
Mark Alice Durant and Guenet Abraham
Monday, April 10, 2017, Noon – 1:00 PM
Dresher Center Conference Room, PAHB 216, UMBC
Visual Arts Department professors Mark Alice Durant and Guenet Abraham will discuss their collaboration on Durant's 27 Contexts: An Anecdotal History in Photography published by Saint Lucy Books. The publications mark a new direction for Saint Lucy https://saint-lucy.com/ a website devoted to writing about photography and contemporary art. Founded in 2011, Saint Lucy features essays, portfolios and wide-ranging conversations with artists, writers, and curators.
27 Contexts: An Anecdotal History in Photography is a series of linked essays that weave memoir with photographic history and theory, to examine how photographs are inextricably bound in our personal and collective histories. Illustrated with a broad spectrum of images from family   snapshots, photojournalism and Hubble space imagery to the work of artists such as Josef   Koudelka, Julia Margaret Cameron, Larry Sultan, Maya Deren, Nan Goldin, David Wojnarowicz and Chris Marker, 27 Contexts describes a life immersed in the quotidian, the political, and the enigmatic powers of photography.
Presenter Bios:
Mark Alice Durant's essays have appeared in numerous journals such as Art in America, Aperture, Dear Dave, and Afterimage, and many catalogs, monographs and anthologies, including Vik Muniz: Seeing is Believing, Jimmie Durham, Marco Breuer: Early Recordings, and The Passionate Camera: Photography and Bodies of Desire. He is author of 27 Contexts: An Anecdotal History in Photography, Robert Heinecken: A Material History and McDermott and McGough: A History of Photography. With Jane D. Marsching, he was co-curator and co-author of Blur of the Otherworldly: Contemporary Art, Technology and the Paranormal. He was co-curator and co-author of the traveling exhibition Some Assembly Required: Collage Culture in Post War America, and Notes on Monumentality at the Baltimore Museum of Art. He has served on the faculties of the School of the Art Institute of Chicago, UCLA, and Syracuse University. He is a professor in the Department of Visual Art at the University of Maryland. In 2011 he started the website Saint-Lucy.com which is devoted to writing about photography and contemporary art. In 2016 Durant founded Saint Lucy Books.
Guenet Abraham started her career as a graphic designer at Random House in NYC. She was senior designer at W. W. Norton and Company. Her work as a book designer has been recognized by national design organizations including the American Institute of Graphic Arts (AIGA), American Association of Museums (AAM), and University College & Designers Association (UCDA).  Guenet continues her practice as a book designer. The list of her clients include, Simon & Schuster, Doubleday, St. Martin's Press, Hyperion, Viking, and New Press, CADVC and most recently Saint Lucy Press.  Guenet is a professor in the Department of Visual Arts at UMBC teaching in the Graphic Design emphasis and continues to work as a book designer. She is currently an associate professor in the Department of Visual Arts at UMBC. Professor Abraham received her M.F.A. in Graphic Design at the Yale School of Art.
CIRCA Catalyst: Jaimes Mayhew, IMDA MFA '10 and Rahne Alexander 
Wednesday, November 16, 2016 7:00 – 8:00 PM, followed by reception
PAHB 132, UMBC
Program:
IMDA MFA Program alumnus Jaimes Mayhew and Rahne Alexander will discuss their Baltimore Museum of Art installation Queer Interiors, which is presented as part of the BMA's Commons Collaboration initiative related to Imagining Home. The project conceived and produced by Rahne Alexander and Jaimes Mayhew is comprised of a larger-than-life bed, shelving and other furnishings, personal artifacts, and a multimedia wall quilt known as the Baltimore LGBTQI+ Home Movie Quilt. This component of the installation pays homage to Baltimore album quilts and the AIDS Quilt, with the aim of presenting a crowd-sourced multimedia portrait of the city's LGBTQI+ communities. The exhibition is now on view at the BMA through August 31, 2017.
CIRCA Catalyst: Nate Sinnott and Eric Abele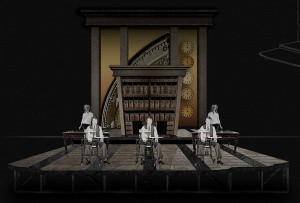 Tuesday, April 26, 2016 4:00-5:00 PM
Proscenium Theatre, PAHB, UMBC
Program:
Nate Sinnott and Eric Abele will discuss their design processes leading to the completed scenic and costume designs for the UMBC Theatre Department's Spring 2016 production of Eugene Ionesco's Rhinoceros. The design process for theatrical production begins many months prior to the opening of the live performance. Designs are generated in a collaborative environment with the director and the design staff. Materials such as research, drafting, scale models, and sketches are generated by the designer and reviewed by the collaborative team with the goal of creating a unified vision that will guide the production through the live performance. Eric and Nate will discuss the design process, display their process materials, and provide the audience with an onstage tour to view final design products.
CIRCA Catalyst: Stephen Bradley and Kathy Marmor, introduced by Dr. Thomas Roth, Professor Emeritus, Department of Biological Sciences

Monday, May 2, 4:00 – 5:00 PM
Albin O. Kuhn Library Gallery, UMBC

Program:
Artists Stephen Bradley and Kathy Marmor will speak on The Glass Knife, an exhibition that reflects on the work of Keith Porter, known as the "father of cell biology". The title The Glass Knife refers to the sharp wedged-shaped glass tool used by Porter to prepare tissue samples. Dr. Thomas Roth will introduce the program, and situate Porter's research in the life of the young university, and in the discipline. Media artists Bradley and Marmor have structured their installation to illuminate Keith Porter's life-long relationship with the micro world of cells. The Glass Knife integrates select elements from Porter's archive to build a unified series of sculptures that allude to Porter's workstation that "sees" the cell and its organelles and the potential applications that Porter imagined. With The Glass Knife, Bradley and Marmor propose a model of imagination that embraces a vision mediated by technology that extends our seeing. The artists as curators offer metaphoric insight into Porter's scientific inquiry made possible with his ground-breaking use of the electron microscope that changed the world of cellular science.
CIRCA Catalyst: Lynn Cazabon
Monday, October 26, 2015,
Noon – 1:00 PM, PAHB 216
Program:
Associate Professor Lynn Cazabon will discuss in-progress projects centered on the Baltic Sea, produced during her time as a Fulbright Scholar in Liepāja, Latvia earlier this year. Her work there focuses on the intimate and complex interconnection between the natural environment and the people who live within it and resulted in a series of portraits of Liepāja residents set against the Baltic Sea and displayed with a quote from each participant about the role the sea plays in their lives. A second series of works focuses on the Baltic Sea itself and the aftermath of military operations that have occurred there. Professor Cazabon will also speak generally about her experiences living and teaching in a foreign country in the New Media Program at Liepāja University.
UMB – UMBC CIRCA Catalyst: Dr. Bruce Jarrell and Lee Boot
Monday, May 18, 2015
UMB Health Sciences and Human Services Library, Gladhill Boardroom, 5th Floor, 601 West Lombard Street, Baltimore, MD 21201
This Catalyst event marked the debut of a cooperative series produced with the UMB Council for the Arts & Culture. UMB-UMBC Catalyst events will showcase the growing ideas and partnership sown between UMB and UMBC researchers.
Lee Boot, Associate Research Professor and Associate Director at the Imaging Research Center presented his commissioned Dome Explorer iPad app created for the National Academy of Sciences. Dr. Bruce Jarrell the Chief Academic and Research Officer at UMB presented on his metalsmithing and impressive projects  that currently beautify UMB and its ceremonial events. In 2012, Jarrell teamed up with Ukrainian blacksmith Anatoliy Rudik to create a metalwork art piece that fills two second floor windows of the University's Southern Management Corporation Campus Center. The treelike piece is based upon the Davidge Elm, a majestic tree that before its death a decade ago stood for nearly 200 years outside Davidge Hall.
CIRCA Catalyst: Michael Fallon and Jenny O'Grady
Wednesday, April 15, 2015    
UMBC Senior Lecturer and poet Michael Fallon set himself the task of writing a book of poems inspired by his own spontaneous photographs taken on walks with his wife. UMBC Director of Marketing Jenny O'Grady edits The Light Ekphrastic, a quarterly journal that pairs writers and artists from all over the world to create new works online and for public spaces. In March of 2015 O'Grady paired sixty-six Baltimore-area writers and artists for a special edition of The Light Ekphrastic published online and via the Baltimore LED Art Billboard. She discussed some of the many routes her participants took as they went from being strangers to collaborators.
CIRCA Catalyst: Stephen Bradley and Lisa Cella

Wednesday, March 25, 2015
UMBC Associate Professors Stephen Bradley, Visual Arts and Lisa Cella, Music presented on their recent collaborative "deep-listening – deep seeing" performance, combining video projection and flute performance. Steve Bradley's time-lapse video work explored a meditative perspective that featured quotidian events. Bradley's visual "curiosity of motion" was interwoven with contemporary solo flute works composed for, and performed by, Lisa Cella.
CIRCA Catalyst: Neja Tomšič and Jaimes Mayhew
November 6, 2014, Noon-1:00 PM
Jaimes Mayhew presented his current body of work, The Autonomous Energy Research Lab, which started as a project for a Fulbright Grant in Iceland in 2011 connecting  the landscapes of Iceland and those of the southwestern US that awakened his interest in the relationships between queer bodies and landscapes, memory and rural culture. Neja Tomšič a Slovenian artist, and the first CEC ArtsLink artist-in-residence hosted by UMBC's IMDA MFA Program, discussed the Museum of Transitory Art (MoTA), a multidisciplinary platform dedicated to the research, production and presentation of transitory, experimental and live art forms. 
CIRCA Catalyst: Cathy Cook, Visual Arts and Lynne Parks, Independent Artist
Monday, October 20, 2014 Noon-1:00 PM

Cathy Cook presented The Cranes in Motion Project, a collection of several hybrid media projects created at the Imaging Research Center that document, explore and artistically interpret the fascinating dynamics of crane culture in an effort to understand this unique species and our shared ecosystems. Lynne Parks is a Baltimore-based artist, environmental activist, and volunteer for Lights Out Baltimore. Her award winning photographs of birds draw our attention to how current building design practices exact fatal consequences on these creatures.
Colette Searls, Department of Theatre and Lynn Tomlinson, Towson University
Thursday, May 8, 2014, 4:30 – 5:30 PM
The collaborative team presented virtual puppetry controlled by iPad for the stage and screen.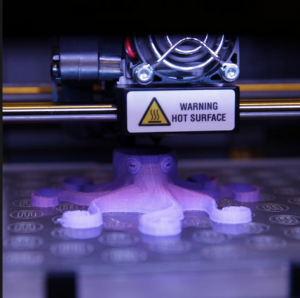 Jan Baum, 3D Maryland and Eric Dyer, Department of Visual Arts
Monday, May 5, 2014 Noon – 1:00 PM
Baum and Dyer surveyed the transformational work taking place with rapid prototyping and 3D printing, and shared dynamic new animations made with 3d output set into motion.
Steve Bradley, Visual Arts and Nicole King, American Studies
Monday, April 28, 2014
Bradley and King presented their collaborative Mapping Baybrook project, an interdisciplinary exploration of place that used digital mapping to illustrate research on the history and culture of an industrial community in Baltimore, Maryland referred to as Baybrook—a merging of the names of two neighborhoods, Brooklyn and Curtis Bay.
Linda Dusman, Department of Music  and Eric Smallwood, Department of Visual Arts
Wednesday, February 26, 2014
Dusman and Smallwood spoke on "Symphony Interactive" a tablet-based guide to the symphony experience.
Chris Swan, Geography and Environmental Systems and Lynn Cazabon, Visual Arts
Monday, November 11, 2013
Dr. Chris Swan and Associate Professor Lynn Cazabon presented the first CIRCA Catalyst event discussing their ongoing work set in prison gardens in Maryland.
Links: http://biodiversity.umbc.edu/          http://lynncazabon.com