Local Lands and Contemporary Indigenous Issues, Wednesday, November 10, 12 – 1 PM, virtual via WebEx
In celebration of Native American Heritage Month, Dr. Elizabeth Rule (enrolled citizen, Chickasaw Nation) joins us from American University to discuss contemporary Indigenous issues. This conversation is an opportunity for UMBC to continue to center Native voices and histories as we rethink our relationship to the Piscataway and Susquehannock land on which the campus sits, and the many indigenous peoples connected to it. This event is sponsored by: Maryland Folklife Network, CIRCA, the Public Humanities Program, and the GWST Department.
Dr. Elizabeth Rule (enrolled citizen, Chickasaw Nation) is entering her first year as an Assistant Professor of Critical Race, Gender, and Culture Studies at American University. She is also currently a MIT Indigenous Communities Fellow and the creator of the Guide to Indigenous DC mobile application. Rule's research on issues in the Native American community has been featured in the Washington Post, Matter of Fact with Soledad O'Brien, The Atlantic, Newsy, and NPR. She is also a published author, releasing scholarly articles in American Quarterly and the American Indian Culture and Research Journal. Rule has two forthcoming monographs. The first, Reproducing Resistance: Gendered Violence and Indigenous Nationhood, analyzes the intersection of violence against Native women, reproductive justice, and the Missing and Murdered Indigenous Women; this work received the Julien Mezey Award for best dissertation from the Association for the Study of Law, Culture, and the Humanities in 2020. Rule's second monograph, Indigenous DC: Native Peoples and the Nation's Capital, analyzes historical and contemporary sites of Indigenous importance in the District of Columbia and emphasizes that all American land is Indian land. Previously, Dr. Rule has held posts as Director of the Center for Indigenous Politics and Policy and Faculty in Residence at George Washington University, Postdoctoral Fellow at American University, Ford Foundation Fellow, and Predoctoral Fellow at MIT. Rule received her Ph.D. and M.A. in American Studies from Brown University, and her B.A. from Yale University.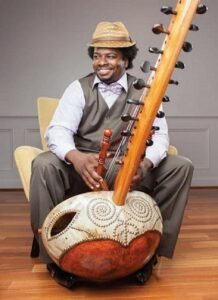 Amadou Kouyate is the 150th generation of the Kouyate family of Manding Diali, renowned oral historians and musicians of West Africa. Amadou performs on the 21-string Kora and also on Djembe and Koutiro drums. His repertoire spans traditional songs from the 13th century to original compositions incorporating blues and jazz. Amadou studied in Mali, Senegal, Guinea, and Cote d'Ivoire with master musicians of the Diali tradition including Djimo Kouyate and Toumani Diabate. Formerly a 2013-14 Strathmore Artist in Residence and Adjunct Lecturer of African Music and Ethnomusicology at the University of Maryland, Amadou pursues a full-time schedule as a solo artist and collaborator. A well-traveled performer, Amadou has brought his music to The Kennedy Center, Smithsonian Institution, Bristol Academy and Isle of Wight in England, Tim Festival in Brazil, as well as the Lowell, East-Lansing and Dayton National Folk Festivals. He collaborated with Sweet Honey in The Rock at Carnegie Hall and performed at the Victoria World Rhythm Festival. This performance is made possible with support from a Maryland State Arts Council Folklife Network Grant. Amadou will be artist-in-residence in the Departments of Music and Dance at UMBC in Spring 2022.