2017 CIRCA Summer Faculty Fellowships
Stephen Bradley, Associate Professor, Visual Arts
Water's Edge Biome Tells, collaboration with Dr. DeCarvalho of the Department of Biological Sciences
Corrie Francis Parks, Assistant Professor, Visual Arts
Black Butterfly
Highlights of Arts Faculty and Student Research
James Smalls, Visual Arts 
Professor James Smalls recently published a book review of Nicole G. Albert's Lesbian Decadence: Representations in Art and Literature of Fin-de-Siècle France in Women's Studies; an article entitled "The Visual Life of Black Queer Diaspora," in Zeitschrift für Anglistik und Amerikanistik: A Quarterly of Language, Literature and Culture, vol. 65, issue 2 (2017): 187-202; a chapter in a book anthology titled "Freeman Murray and the Art of Social Justice," in Claire Parfait et. al, eds., Writing History from the Margins (New York and London: Routledge, 2017), 131-142; and the article "Sculpting African Nouveau: Primitivism, Ethnography, and Afro-Kitsch in the Works of Woodrow Nash," International Review of African-American Art, vol. 26, no. 2 (2017): 28-43. Professor Smalls is also the chief curator for the exhibition Man, Image, Idea: Photographs of Men from the Mark Rice Collection, held at the UMBC Albin O. Kuhn Library Gallery, August 30-December 12, 2017. On December 7, 2017, at 4pm, Professor Smalls will present "The Mark Rice Collection and the Homo-Erotics of Photography after Stonewall," as part of UMBC's Humanities Forum.
Kelley Bell, Visual Arts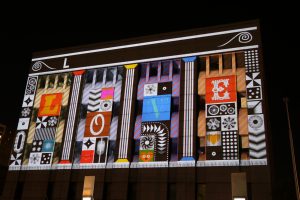 Professor Kelley Bell artwork The Kubler Ross Device, will be featured in the upcoming year long exhibition, The Great Mystery Show at the American Visionary Museum in Baltimore. Professor Bell was commissioned to create a new work for the Dlectricity Festival in Detroit, MI, Detroit Love Wall, which was was projected at the Karmanos Cancer Center in Midtown Detroit, Sept 22 & 23, 2017. In spring 2017, Professor Kelley Bell displayed a site-specific animation Babel at the David M. Brown Planetarium. Her work was also recently on view in Animation goes MSU, in parallel with the 27th World Festival of Animated Film in Zagreb, Croatia.
Lynn Watson, Theatre
Professor Watson and UMBC Theatre alum, Rachel Hirshorn, presented their research at the Voice and Speech Trainers Assoc. conference in Singapore this summer. In collaboration with neuroscientist Dr. Tyler Davis, they discussed their fMRI pilot study examining the effects of a performance training methodology (Fitzmaurice Voicework) on neurological activity and cognition. The investigation results were encouraging, and the research team has submitted an NEA "Creativity Connects" grant proposal to fund an expanded study. Creativity Connects "is a grant opportunity in the Art Works category that supports collaborative, mutually beneficial partnerships between the arts and non-arts sectors."
Chinen Aimi Boullion, IMDA Graduate Student
Recipient of Imagining America: Artists and Scholars in Public Life/Joy of Giving Something, Inc. $2,000 tuition award and $500 fellowship award to be received at the 2017 Imagining America National Conference, October 12-14th, 2017 in Davis, California.