VICTORIA SAMBUNARIS: TAXONOMY OF A LANDSCAPE
Visual Arts
August 27 – December 17, 2014            
Albin O. Kuhn Library Gallery
Artist's Lecture: October 8 at 4:00 PM
Co-sponsored by CIRCA 
This exhibition presents photographs made over the span of more than a decade by Sambunaris as she traversed the United States, stopping to photograph phenomena ubiquitous and familiar to particular regions but anomalous to the ordinary eye: massive distribution facilities, complex transport systems, colossal mining operations, majestic mountain gaps, exploding mud pots. Acting as both document and metaphor for the American experience, Sambunaris's photographs bring into view the vast, open-ended mystery and unease of a country where human intervention and natural beauty inspire wonder in equal measure. Collected ephemera—the essential, and incidental, elements of Sambunaris's work as a photographer and researcher— are also included in this exhibition (books on geology and history, maps, and artifacts collected on her journeys, such as mineral specimens, journals, road logs), as well as a video documenting her travel and work processes, and over 1,500 of her small photographic sketches.
TOM SCOTT, RETROSPECTIVE
Visual Arts
Thursday, October 9 – Saturday, December 13
Opening reception: Thursday, October 9 at 5:00 PM
Center for Art, Design and Visual Culture
Tom Scott's career as an artist spanned more than 60 years, from the early 1950s through the first decade of this century. His output is remarkable not only for its temporal span but for its quantity and qualities, amounting to over 3,000 by his death at age 85 in March 2013. It is also remarkable for the particular span of time it covers: a unique time that saw the ascendancy of American art on the world stage for the first time and an extraordinarily fertile period of general artistic invention worldwide that included the creation and maturing of important sub-movements of modernism, and simultaneously the beginning of post modern tendencies in art.
Music
Thursday, October 16 | 8:00 PM
Ruckus, the contemporary music ensemble in residence at UMBC
Concert Hall, Performing Arts & Humanities Building
Ruckus, the contemporary music ensemble in residence at UMBC, featuring clarinetist E. Michael Richards, flutist Lisa Cella, percussionist Tom Goldstein, trombonist Patrick Crossland, and other colleagues, presents a concert featuring masterpieces from the new music repertoire.
Vinko Globokar: Correspondences
Karlheinz Stockhausen: Dr K–Sextett
René Leibowitz: Variations non sérieuses, for violine, posaune, vibraphone, 7 piano, "Marijuana," Op.54
Helmut Lachenmann: Dal Niente (Intérieur III)
LIVEWIRE: PATRICK CROSSLAND, TROMBONE
Music
Friday, October 17 | 8:00 PM
Concert Hall, Performing Arts & Humanities Building
Presented as part of the Livewire new music festival, trombonist Patrick Crossland performs major works from the contemporary music repertoire, including:
Rene Leibowitz: Quatre Bagatelles pour trombone et piano (1963)
Luciano Berio: Sequenza V (1966)
Carlos Alsina: Consecuenza (1966)
Mauricio Kagel: atem für einen Bläser (1970)
Jürg Wyttenbach: D'(H)ommage oder "Freu(n)de, nicht…" (1985)
Jean-Pierre Drouet: Essais de Trombone (1998)
John Palmer: transfiguration (2006)
PERFORMING ARTS AND HUMANITIES BUILDING GRAND OPENING
Arts & Humanities
Friday, October 17 | 3:00 PM
Performing Arts and Humanities Building Grand Opening
Concert Hall and other locations in the PAHB
Hold the date! The campus community and the public are cordially invited to attend the grand opening of the Performing Arts and Humanities Building on Friday, October 17. At 3:00 p.m., an official ribbon cutting ceremony will be held in the Recital Hall, followed by a reception, building tours, performances and open rehearsals. We will also commemorate the installation of the new public artwork by Thomas Sayre.
NORA BY INGMAR BERGMAN
Theatre
Thursday, October 23 – Sunday, October 26
Directed by Eve Muson
Black Box Theatre
The UMBC Department of Theatre presents Nora by Ingmar Bergman, a stage adaptation and translation of Henrik Ibsen's A Doll's House. English translations by Frederick J. Marker and Lise-Lone Marker. Directed by Eve Muson.
Having been ruled her whole life by either her father or her husband, Nora finally comes to question the foundation of everything she has believed in once her marriage is put to the test. Nora is the celebrated director Ingmar Bergman's stripped-down adaptation of A Doll's House, the groundbreaking modern drama by Henrik Ibsen. By focusing on the heart of the relationships and the erotic bond between men and women, this is no longer about women's equality but rather how much any one person, man or woman, is prepared to sacrifice for love.
REBOLLAR DANCE AND CLANCYWORKS DANCE COMPANY
Dance
Friday & Saturday,
October 24 & 25 | 8:00 PM
Rebollar Dance
ClancyWorks Dance Company
Dance Cube, Performing Arts and Humanities Building
Two renowned regional dance companies, Rebollar Dance and ClancyWorks Dance Company, share a program in the new Dance Cube. Rebollar Dance, directed by Erica Rebollar, was highlighted as a Season Pick in Washington City Paper's 2012 Falls Arts Guide and Washington Post's Editor's Picks/Going Out Guide, as well as features on WAMU radio, FOX 5, and NBC news shows. ClancyWorks Dance Company is a collective of performing artists directed by Adrienne Clancy. The members of the company have more than 80 years collectively of dance and choreographic experiences.
THE MATHEMATICS OF BEING HUMAN
Interdisciplinary
Tuesday, November 4 | 4:00 PM & 7:30 PM
Black Box Theatre, Performing Arts and Humanities Building
Admission is free

A provocative new play by UMBC professors Michele Osherow (English, Folger Theatre) and Manil Suri (Mathematics, author of The Death of Vishnu), directed by Alan Kreizenbeck (Theatre).
Battle lines are drawn when an English professor and mathematician are compelled to co-teach a course at a university bent on promoting interdisciplinarity. They tussle over everything: from the value of 'nothing' in King Lear, to the fractals found in cauliflower. Will they be able to give the class a glimpse of synthesis or will their insularity prove impossible to surmount?
Each reading will be followed by a talk-back.
Humanities Forum – IRC
Tuesday, December 2 | 4:00 PM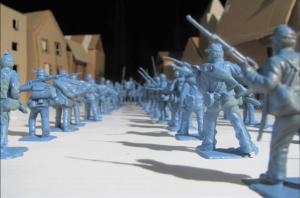 Digital Humanities Initiative Event
Albin O. Kuhn Library Gallery
Anne Sarah Rubin, Associate Professor of History, Director of the Center for Digital History and Education, and Kelley Bell, Associate Professor of Visual Arts


UMBC professors Anne Sarah Rubin and Kelley Bell use the 150th anniversary of Sherman's March to the Sea to discuss their collaboration on a digital project about this American Civil War event. Sherman's March and America: Mapping Memory is an experiment in digital history that uses storytelling to introduce viewers to ideas about the intersections of place and memory. By showing the various approaches to one historical event—the 1864 March to the Sea—this project opens up questions about the stories that are told about the past.
CIRCA banner image of a Scarlet Tanager, by Lynne Parks