Theatre
Thursday – Sunday, November 20 – 23
Guest directed by Stephen Nunns
Performing Arts and Humanities Building Proscenium Theatre
The Game of Love and Chance is a wild and wooly girl-meets-boy farce about mistaken identity, true love, class disparities and the thorny business of marriage by French dramatist Pierre de Marivaux. When two aristocratic kids decide to undermine their parents' plan for an arranged marriage by switching identities with their servants, confusion and madness reigns. By resetting the action as a 1930s screwball comedy, this version of The Game of Love and Chance is as lively and timely as when it was originally staged 300 years ago.
TOM SCOTT, RETROSPECTIVE
Visual Arts
Thursday, October 9 – Saturday, December 13
Center for Art, Design and Visual Culture
Tom Scott's career as an artist spanned more than 60 years, from the early 1950s through the first decade of this century. His output is remarkable not only for its temporal span but for its quantity and qualities, amounting to over 3,000 by his death at age 85 in March 2013. It is also remarkable for the particular span of time it covers: a unique time that saw the ascendancy of American art on the world stage for the first time and an extraordinarily fertile period of general artistic invention worldwide that included the creation and maturing of important sub-movements of modernism, and simultaneously the beginning of post modern tendencies in art.
Humanities Forum – IRC
Tuesday, December 2 | 4:00 PM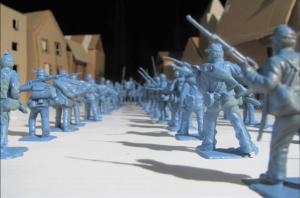 Digital Humanities Initiative Event
Albin O. Kuhn Library Gallery
Anne Sarah Rubin, Associate Professor of History, Director of the Center for Digital History and Education, and Kelley Bell, Associate Professor of Visual Arts


UMBC professors Anne Sarah Rubin and Kelley Bell use the 150th anniversary of Sherman's March to the Sea to discuss their collaboration on a digital project about this American Civil War event. Sherman's March and America: Mapping Memory is an experiment in digital history that uses storytelling to introduce viewers to ideas about the intersections of place and memory. By showing the various approaches to one historical event—the 1864 March to the Sea—this project opens up questions about the stories that are told about the past.
The CIRCA banner image portrays Dr. Patrick Crossland, photo courtesy of Marlayna Demond.