Eric Dyer Copenhagen Cycles at Ronald Feldman Fine Arts
OPENING RECEPTION: SEPTEMBER 6, 6-8PM
Exhibition dates: September 6 –October 11, 2014
31 Mercer Street NY, NY 10013 www.feldmangallery.com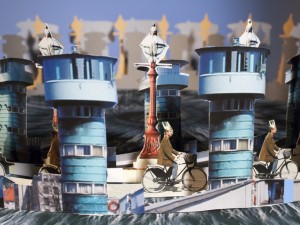 An exhibition of looping projections, photographic prints, and spinning zoetropes from the Copenhagen Cycles project.
Copenhagen Cycles is Eric Dyer's first solo exhibition in New York. His award-winning films have screened internationally at numerous festivals, including the Chicago International Film Festival, the Ann Arbor Film Festival, South by Southwest, and the Ottawa, Annecy, Melbourne, and London International Animation Festivals. His work has also been exhibited at the Hirshhorn Museum and Sculpture Garden, the Exploratorium, the Smithsonian National Gallery of Art, Ars Electronica, and the Cairo and Venice Biennales. He was awarded a John Simon Guggenheim Memorial Fellowship in 2012.
Linda Dusman and Eric Smallwood, Awarded $150,000 TEDCO MII Grant
Linda Dusman, Music, and Eric Smallwood, Visual Arts, in partnership with the School of Music at the University of Maryland, College Park, have received a $150,000 Maryland Innovation Initiative (MII) grant for their work on the tablet app, Symphony Interactive. The tablet app provides contemporary audiences a novel way to engage with live orchestral performances through text and images presented at the exact moment the information is most pertinent to the music.The MII program promotes the commercialization of academic research conducted in the partnership universities. Symphony Interactive is only the second project within the humanities ever to receive an award from MII, and the first to be funded in the arts and humanities at UMBC.
VICTORIA SAMBUNARIS: TAXONOMY OF A LANDSCAPE
Visual Arts
August 27 – December 17, 2014
Albin O. Kuhn Library Gallery
Artist's Lecture: October 8 at 4:00 PM
This exhibition presents photographs made over the span of more than a decade by Sambunaris as she traversed the United States, stopping to photograph phenomena ubiquitous and familiar to particular regions but anomalous to the ordinary eye: massive distribution facilities, complex transport systems, colossal mining operations, majestic mountain gaps, exploding mud pots. Acting as both document and metaphor for the American experience, Sambunaris's photographs bring into view the vast, open-ended mystery and unease of a country where human intervention and natural beauty inspire wonder in equal measure. Collected ephemera—the essential, and incidental, elements of Sambunaris's work as a photographer and researcher— are also included in this exhibition (books on geology and history, maps, and artifacts collected on her journeys, such as mineral specimens, journals, road logs), as well as a video documenting her travel and work processes, and over 1,500 of her small photographic sketches.
HADIEH SHAFIE, IMDA ALUMNA LECTURE
Visual Arts
Monday, September 15 | 1:00 PM
Imaging Research Center (IRC): ITE 101
Hadieh Shafie's work has been featured in a number of major exhibitions in the United States and abroad, including the Jameel Prize traveling exhibition presented at the Victoria and Albert Museum, London; Institute du Monde Arabe, Paris; Casa Arabe, Madrid; Cantor Arts Centre, Stanford University; and the San Antonio Museum of Art, Texas.
Shafie (MFA '04) is the recipient of the Maryland State Arts Council Individual Artist Award (2008 and 2010); the Mary Sawyers Baker Prize from the William G. Baker, Jr. Memorial Fund (2009); and a grant from the Franz and Virginia Bader Fund (2010). She was shortlisted for the Jameel Prize in 2011. Most recently Shafie was a recipient of the 2012 Space Program by the Marie Walsh Sharpe Art Foundation.
MARK TRIBE: Art is a Three Letter Word
Humanities Forum, Visiting Artist Lecture Series
Digital Humanities Initiative Event, cosponsored by CIRCA
Thursday, September 18 | 5:30 PM
Albin O. Kuhn Library 7th Floor
Artist, author, and curator Mark Tribe considers the ways in which landscape images are used to expand territories and defend geopolitical interests. Working indoors, Tribe uses software to generate panoramic outdoor landscape photographs from a "drone's eye" perspective. Tribe's photographs suggest that the machinic perspective of unmanned devices produces compelling images that play an influential role in contemporary culture.
Music
Thursday, October 16 | 8:00 PM
Ruckus, the contemporary music ensemble in residence at UMBC
Concert Hall, Performing Arts & Humanities Building
Ruckus, the contemporary music ensemble in residence at UMBC, featuring clarinetist E. Michael Richards, flutist Lisa Cella, percussionist Tom Goldstein, trombonist Patrick Crossland, and other colleagues, presents a concert featuring masterpieces from the new music repertoire, including works by Globokar, Stockhausen, Leibowitz and Lachenmann.
LIVEWIRE: PATRICK CROSSLAND, TROMBONE
Music
Friday, October 17 | 8:00 PM
Concert Hall, Performing Arts & Humanities Building
Presented as part of the Livewire new music festival, trombonist Patrick Crossland performs major works from the contemporary music repertoire, including:
• Rene Leibowitz: Quatre Bagatelles pour trombone et piano (1963)
• Luciano Berio: Sequenza V (1966)
• Carlos Alsina: Consecuenza (1966)
• Mauricio Kagel: atem für einen Bläser (1970)
• Jürg Wyttenbach: D'(H)ommage oder "Freu(n)de, nicht…" (1985)
• Jean-Pierre Drouet: Essais de Trombone (1998)
• John Palmer: transfiguration (2006)