Celebrating Undergraduate Arts Excellence
A freshman year spring break service trip through the InterVarsity Christian Fellowship planted a seed in Amy Berbert's mind. She volunteered with non-profit organizations working in the Baltimore's Mt. Clare neighborhood, and, though limited in time and scope, the experience gave her a clearer sense of how poverty and racism can impact communities. She reflects, "That trip is what inspired me to create the social justice work I am doing now, three years later."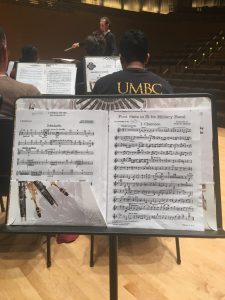 Bentley Corbett-Wilson
B.A., Music (Music Education)
UMBC has presented me with opportunities that have led me to be more open-minded, think more critically, and take action within my community.
Bentley Corbett-Wilson's UMBC story is one of personal growth and supporting others through leadership in shared governance and campus life.
As president of UMBC's Student Government Association (SGA) during the university's 50th anniversary, and an active senior member of the Student Events Board (seb), Corbett-Wilson was closely involved in UMBC's anniversary celebrations. He also offered a student perspective on major campus-wide events throughout the 50th year, from the Women's Center's "Take Back the Night" to SGA's "Election Night Extravaganza," sharing photos and reflections on UMBC's main social media accounts and in UMBC Magazine.
Emily Eaglin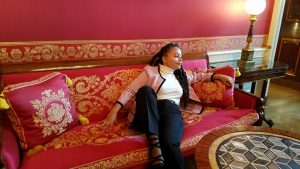 B.F.A., Visual Arts (Cinematic Arts)
Entering UMBC as a Linehan Artist Scholar, Emily Eaglin has combined creative scholarship with passionate engagement on social issues to develop several projects capturing the attention of local and national audiences alike.
Eaglin has worked to hone her approach and techniques in film and video to realize cinema's powerful potential to communicate about the complex intersections of class, gender, and race with a mass audience. She has created several film projects and a web series, Marylandia(2016), while at UMBC —receiving two competitive student awards to support the research and production of that series.
Jacob Mueller is a Linehan Artist Scholar who has continually distinguished himself at UMBC as a thoughtful and creative lighting designer. Mueller has worked on the student-directed Studio 3 productions Gidion's Knott and Sister Mary Ignatius Explains It All For You, and was the lighting designer for his department's Blackbox Theatre production of Proof, a highly competitive opportunity to showcase his growing expertise.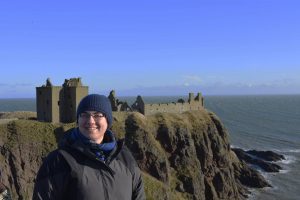 Jacqueline Wojcik
B.F.A., Visual Arts (Animation and Interactive Media)
Jacqueline Wojcik has applied an inquisitive mind to understanding animation in all its diverse aspects, including expertise in three-dimensional and two-dimensional techniques, game design, computer science (her minor), and the social context that informs animated work.
With her imagination sparked by a study abroad experience in Scotland, she applied to the U.S. Fulbright Student Program, winning a research award for 2017-18. Wojcik will spend the next academic year as a Fulbright researcher at the Viking Ship Museum in Oslo, Norway. Her project, "The Gokstad and Oseberg Burials in Digital Space," will recreate artifacts from two Viking Age ship burials as they would have been used in the lives of their owners. The three-dimensional digital artifacts she creates will exist in a virtual reality game-like environment for visitors to explore.