THE MATHEMATICS OF BEING HUMAN
Interdisciplinary
Tuesday, November 4 | 4:00 PM & 7:30 PM
Black Box Theatre, Performing Arts and Humanities Building
Admission is free

A provocative new play by UMBC professors Michele Osherow (English, Folger Theatre) and Manil Suri (Mathematics, author of The Death of Vishnu), directed by Alan Kreizenbeck (Theatre).
Battle lines are drawn when an English professor and mathematician are compelled to co-teach a course at a university bent on promoting interdisciplinarity. They tussle over everything: from the value of 'nothing' in King Lear, to the fractals found in cauliflower. Will they be able to give the class a glimpse of synthesis or will their insularity prove impossible to surmount?
Each reading will be followed by a talk-back.
CIRCA Catalyst
Thursday, November 6 | Noon-1:00 PM
Dresher Conference Room, PAHB 216
Jaimes Mayhew – The Autonomous Energy Research Lab
Jaimes Mayhew will present his current body of work, The Autonomous Energy Research Lab, which started as a project for a Fulbright Grant in Iceland in 2011. While Mayhew worked in Iceland, he discovered a connection between the landscapes of Iceland and those of the southwestern US that awakened his interest in the relationships between queer bodies and landscapes, memory and rural culture. Mayhew will present the work made while on his Fulbright grant, and share how those experiences inform his current work.
Neja Tomšič: MoTA – Museum of Transitory Art
Neja Tomšič is a Slovenian artist, and the first CEC ArtsLink artist-in-residence hosted by UMBC's IMDA MFA Program. Tomšič will discuss the Museum of Transitory Art (MoTA), a multidisciplinary platform dedicated to the research, production and presentation of transitory, experimental and live art forms. Two of MoTA's recent ongoing projects- The DarkStar and MV Monchegorsk will be highlighted. The DarkStar project is a semi-utopian monument to the moon and the stars for public space. The project is designed as a platform for technological, architectural, sound and graphic innovations and experiments. The MV Monchegorsk is a project which explores the rather mysterious incident of one of the biggest non-war related explosions in human history, the Evangelos Florakis Naval Base explosion in Cyprus in 2009.
FILM SCREENING : KUMAR TALKIES, WITH FILMMAKER PANKAJ RISHI KUMAR
Visual Arts | Co-Sponsored by CIRCA
Wednesday, November 12 | 12:00 – 2:00 PM
Kumar Talkies, with Filmmaker Pankaj Rishi Kumar
Albin O. Kuhn Library Gallery
Kumar Talkies is a run-down cinema in small town Kalpi, where few films run longer than a few days, and each screening is missing a number of songs and dances, thanks to the projectionist's whims. Once owned by the filmmaker's father, it remembers better days, as seen unearthed through family testimonies and 8mm footage. Still, the faces of moviegoers reflected in the dark speak for themselves — the magic of cinema will never cease to captivate. The film explores the relationship between Kalpi — a small town in northern India — and its only surviving cinema hall, a decrepit and cash-strapped shed located in a particularly dirty corner of the town. The film documents cinema as simultaneously a vehicle that conveys a remote, urban, imagination to a small town such as Kalpi, and a medium in which different people expect their localized existence to be captured and displayed. The film chronicles Kalpi's economic decline and its citizens' hopes and frustrations while taking a nostalgic look at the lost, lavish world of cinema. The film also considers the influence of television, which is gradually reducing the audience at the hall.
TOM SCOTT, RETROSPECTIVE
Visual Arts
Thursday, October 9 – Saturday, December 13
Center for Art, Design and Visual Culture
Tom Scott's career as an artist spanned more than 60 years, from the early 1950s through the first decade of this century. His output is remarkable not only for its temporal span but for its quantity and qualities, amounting to over 3,000 by his death at age 85 in March 2013. It is also remarkable for the particular span of time it covers: a unique time that saw the ascendancy of American art on the world stage for the first time and an extraordinarily fertile period of general artistic invention worldwide that included the creation and maturing of important sub-movements of modernism, and simultaneously the beginning of post modern tendencies in art.
Humanities Forum – IRC
Tuesday, December 2 | 4:00 PM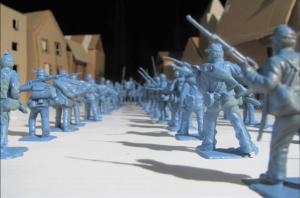 Digital Humanities Initiative Event
Albin O. Kuhn Library Gallery
Anne Sarah Rubin, Associate Professor of History, Director of the Center for Digital History and Education, and Kelley Bell, Associate Professor of Visual Arts


UMBC professors Anne Sarah Rubin and Kelley Bell use the 150th anniversary of Sherman's March to the Sea to discuss their collaboration on a digital project about this American Civil War event. Sherman's March and America: Mapping Memory is an experiment in digital history that uses storytelling to introduce viewers to ideas about the intersections of place and memory. By showing the various approaches to one historical event—the 1864 March to the Sea—this project opens up questions about the stories that are told about the past.
CIRCA banner image courtesy of Jaimes Mayhew