CIRCA Presents: Nicolás Dumit Estévez Raful Espejo Ovalles with Harley Spiller, Thursday, December 2, 6 – 7pm, Recording
Transdisciplinary artist Nicolás Dumit Estévez Raful Espejo Ovalles will present his category-defying work that treads an elusive route manifesting itself performatively or through experiences where the quotidian and art overlap. Ken Dewey Director of Franklin Furnace Archive Harley Spiller will lead a lively conversation with the artist.
Nicolás Dumit Estévez Raful Espejo Ovalles's artistic practice has been informed by a strong personal interest in immigration, cultural hybridization and Estévez's understanding of identity as a process always in flux. He approaches the concepts of home and belonging to the U.S. American context from the perspective of a Lebanese-Dominican born in Santiago de los Treinta Caballeros, Dominican Republic, and as a Dominican York who was baptized in 2011 as a Bronxite: a citizen of the Bronx. Estévez's transdisciplinary work is rooted in social concerns like those taken on by seminal figures in visual arts and performance art with whom he has been involved as a student-mentee-or collaborator: Linda Mary Montano, Martha Wilson, Annie Sprinkle, Elizabeth Stephens, Arthur Avilés, Billy X. Curmano, and Coco Fusco. Estévez is invested in experimenting with art-making away from the gaze of the voyeur, and instead proposes to engage people to become active participants in the kindling or co-development of experiences. While ephemeral in nature, Estévez's gestures gain permanence through audio recordings, photographs, podcasts, props, drawings, rumors, embodied memories, costumes, websites, videos, and publications. Estévez has exhibited or performed at Madrid Abierto/ARCO, The IX Havana Biennial, PERFORMA 05/07, IDENSITAT, Prague Quadrennial, Pontevedra Biennial, Call/Walks, Queens Museum, MoMA, Printed Matter, P.S. 122, Hemispheric Institute of Performance Art and Politics, Princeton University, Anthology Film Archives, El Museo del Barrio, Center for Book Arts, Longwood Art Gallery/BCA, The Smithsonian National Museum of the American Indian, Franklin Furnace, and Lower Manhattan Cultural Council. He holds an MFA from Tyler School of Art and an MA from Union Theological Seminary. Since 2006, he has pursued trainings with key people in the healing, somatic movement, and writing fields. Nicolás is the founding director of The Interior Beauty Salon, a space working at the intersection of creativity and healing.
Harley Spiller is an artist, author, collector, curator and lifelong museum worker who currently serves as the Ken Dewey Director of Franklin Furnace Archive, an arts organization based in Brooklyn, NY whose mission is to present, preserve, interpret, proselytize and advocate on behalf of avant-garde art, especially forms that may be vulnerable due to institutional neglect, cultural bias, their ephemeral nature, or politically unpopular content. Spiller's own work is in the permanent collections of MoMA, New York; The New York State Museum; The Smithsonian National Museum of American History; and The University of Toronto Scarborough.  He has written for Columbia University Press, The New York Times, Oxford University Press, University of California Press, and The Wall Street Journal. Spiller holds a BA in English Literature from Northwestern University; an MA in Liberal Studies, with honors, from the New School for Social Research; and a Guinness World Record for collecting. His book Keep the Change: A Collector's Tales of Lucky Pennies, Counterfeit C-Notes, and Other Curious Currency (Princeton Architectural Press 2015) was deemed "beautifully written and designed" by Roberta Smith in The New York Times. Harley met Nicolás in 2004 during "For Art's Sake," Estevez's series of pilgrimages to Manhattan museums in which religion became a tool in the service of art. The two have since contributed multiple times to each other's avant-garde art projects.
---
Amadou Kouyate, Saturday, November 13, 7:30 – 9:00pm, Earl and Darielle Linehan Concert Hall, FREE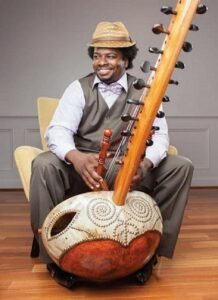 Amadou Kouyate is the 150th generation of the Kouyate family of Manding Diali, renowned oral historians and musicians of West Africa. Amadou performs on the 21-string Kora and also on Djembe and Koutiro drums. His repertoire spans traditional songs from the 13th century to original compositions incorporating blues and jazz. Amadou studied in Mali, Senegal, Guinea, and Cote d'Ivoire with master musicians of the Diali tradition including Djimo Kouyate and Toumani Diabate. Formerly a 2013-14 Strathmore Artist in Residence and Adjunct Lecturer of African Music and Ethnomusicology at the University of Maryland, Amadou pursues a full-time schedule as a solo artist and collaborator. A well-traveled performer, Amadou has brought his music to The Kennedy Center, Smithsonian Institution, Bristol Academy and Isle of Wight in England, Tim Festival in Brazil, as well as the Lowell, East-Lansing and Dayton National Folk Festivals. He collaborated with Sweet Honey in The Rock at Carnegie Hall and performed at the Victoria World Rhythm Festival. This performance is made possible with support from a Maryland State Arts Council Folklife Network Grant. Amadou will be artist-in-residence in the Departments of Music and Dance at UMBC in Spring 2022.
---
CIRCA Presents: Tahir Hemphill, UMBC Diversity in the Arts Fellow, Friday, November 12, 12 – 1pm, Recording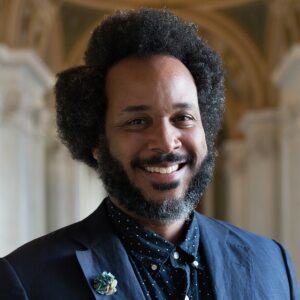 UMBC Diversity of the Arts Fellow Tahir Hemphill will discuss his multifaceted practice as a creative technologist, multimedia artist, and design researcher in a lively conversation with UMBC Assistant Professor of Information Systems Foad Hamidi, and writer, programmer and long-time collaborator David Goldberg. Hemphill's work investigates the role systems play in the generation of form and the role collaborative knowledge production plays in the resilience of communities. 
Hemphill's Rap Research Lab is a community-based creative technology studio that uses a Hiphop framework to develop new ways for people to engage with data and culture. Rap Research Lab builds on Hiphop's legacy as a transformative and innovative genre that revolutionized global cultural practices by pioneering new, 21st century digital forms by harnessing big data, artificial intelligence, robotics, natural language processing, and social networks to create opportunities for cultural research, creative competition, individual expression, and collaborative problem solving. Previous to coming to UMBC, Tahir was the 4th Chair in Education at the Library of Congress,  Verizon 5G EdTech Challenge winner, Saul Zaentz Innovation Fund in Film and Media Studies Fellow, LACMA Art + Technology Lab Grantee, Autodesk Pier 9 Artist-in-Residence, Rockefeller Foundation Bellagio Center Behavioral Science Resident, Spotify Media Artist-in-Residence, National Endowment of the Arts Art Works Grantee, Fellow at the W.E.B. Du Bois Institute for African and African American Research at Harvard University, Creative Capital Awardee, and Eyebeam Artist-in-Residence. His work was featured in the Talk to Me exhibition at the Museum of Modern Art, which explored design and the communication between people and objects. His current project Mapper's Delight is a sculptural data visualization tool built on semantic relationships of thousands of rap lyrics. It shows how rappers cover the globe with references to cities, neighborhoods and regions, using augmented reality to put music and language at your fingertips. Explorers can discover how the world's most popular form of poetry and performance engages language arts, STEM, and cultural and data literacy for the 21st century.
Foad Hamidi is an Assistant Professor in the Information Systems Department at UMBC and is director of the Designing Participatory Futures (DARE) lab. His research is focused on the participatory design and evaluation of emerging systems, including digital living media systems and adaptive systems, for different users including children and adults with and without disabilities.
David A. M. Goldberg is a veteran cultural practitioner of hip-hop and a writer, teacher, programmer, and media developer who has used a lifelong interest in art, culture, and technology to transform the means by which people access, assess, and organize knowledge. He holds degrees in Computer Systems Engineering (B.S. Howard University 1993,) Visual Criticism (MA California College of the Arts 2002,) and recently completed his PhD in American Studies from the University of Hawai'i at Manoa.
---
Local Lands and Contemporary Indigenous Issues, Wednesday, November 10,
12 – 1 PM, virtual
In celebration of Native American Heritage Month, Dr. Elizabeth Rule (enrolled citizen, Chickasaw Nation) joins us from American University to discuss contemporary Indigenous issues. This conversation is an opportunity for UMBC to continue to center Native voices and histories as we rethink our relationship to the Piscataway and Susquehannock land on which the campus sits, and the many indigenous peoples connected to it. This event is sponsored by: Maryland Folklife Network, CIRCA, the Public Humanities Program, and the GWST Department.
---
Arts Alumni Spotlight: Mary Dell'Erba and Colin Holter, Thursday, November 4, 5 – 6:30pm, Recording
Mary Dell'Erba (Dance, INDS '14) is a senior project manager at the Arts Education Partnership, a center within the Education Commission of the States and a collaborative of the National Endowment for the Arts and U.S. Department of Education. Colin Holter (Music '01) is Executive Director of the Northern Ohio Youth Orchestra, northeast Ohio's oldest extracurricular large-ensemble program. They will each talk about their respective careers and professional trajectories since graduating from UMBC.
In her role as senior project manager at the Arts Education Partnership, Mary Dell'Erba leads a team of staff developing arts education policy research, reports and national convenings. She also offers technical assistance on arts education policy issues to the AEP network of more than 140 partner organizations and ECS Commissioners, including state policymakers and national arts and education organizations. Prior to joining AEP, she worked in state level policy and advocacy, leadership development, philanthropy, and state government. Mary is currently a fellow in the Education Policy Fellowship Program through the Institute for Educational Leadership. Mary received her Master's in Public Policy with a focus in Education in 2015, as well Bachelor's Degrees in Dance and Interdisciplinary Studies in 2014 from UMBC where she was a Linehan Artist Scholar.
Colin Holter is Executive Director of the Northern Ohio Youth Orchestra and directs the NOYO Lab Group, a collaborative composing ensemble that plays repertoire created by its participants. In addition to his work with NOYO, Colin serves on the board of Cleveland dance company, The Movement Project, and is an occasional improviser, interdisciplinary collaborator, and writer on music. Colin holds a PhD in composition from the University of Minnesota, Twin Cities, along with master's degrees from the University of Illinois at Urbana-Champaign and Brunel University London. Colin graduated from UMBC in 2005 in Music (composition) and was a Linehan Artist Scholar.
---
CIRCA Presents: Teri Henderson, Wednesday, October 20, 5:30 – 6:30pm, PAHB 132
Teri Henderson is a staff writer for BmoreArt, curator, and coordinator of Connect+Collect, a collecting initiative designed to engage new and established collectors and to build relationships with Baltimore-based artists through talks, gallery and studio visits.  She will discuss her work as a staff writer for BmoreArt, and how she navigates her roles as the Connect+Collect Gallery Coordinator and as the founding Director of the Black Collagists Arts Incubator. She will emphasize the benefits and challenges of beginning her career without having a traditional art background and how she centers the voices of marginalized creatives in both her writing and curatorial practice.
Teri Henderson (b. Fort Worth, TX, 1990) holds a Bachelor of Science in Psychology from Texas Christian University. She formerly held a curatorial internship at Ghost Gallery in Seattle, Washington. Henderson previously served as the Art Law Clinic Director for Maryland Volunteer Lawyers For The Arts and is currently on their Board of Directors. Her written work has been seen in: All SHE Makes, Justsmile Magazine, Kinfolk Travel, and the St. James Encyclopedia of Hip Hop Culture. Her work as co-director of WDLY, a collaborative nomadic platform for the curation of art centered events, addresses shrinking the gap between the spaces that contemporary artists of color inhabit and the resources of the power structures of the art world through the curation and artistic production of events. In her work as a staff writer for BmoreArt she highlights the voices of Black, brown, queer and non-traditional artists and creatives.
---
Jacob Ashworth: A Field Guide to Adventurous Programming, Friday, October 15, 12 – 1pm, recording
For nearly ten seasons, Cantata Profana's "impressive Artistic Director" (New York Times) Jacob Ashworth has honed a visionary approach to programming music from the past 1000 years into genre-bending theatrical chamber shows, winning the CMA/ASCAP Award for Adventurous Programming in 2016. In this lecture, Jacob highlights a few notable programmers of the past, catalogues the prevailing styles of today, and breaks down the elements of his own approach, from inspiration to research to performance, walking us through the creation of three of Cantata Profana's signature main stage shows. 
A fearless ensemble of inquisitive musicians, Cantata Profana boldly juxtaposes masterpieces from the medieval era to the 21st century in lovingly curated shows filled with unexpected works and daring theater. At the heart of each signature Cantata Profana production is a vision for a new kind of programming: breathing life into classical music by carefully weaving together rarely-heard works from every chapter of music history and reveling in how it all fits together.  In the constant hustle and hand-wringing over how classical music can keep its audience alert and engaged, programming is the most underutilized tool in the shed. Combining disparate works from across centuries and continents and marshaling them into shows that transfix audiences, from the geekiest of music aficionados to first-time concert-goers, is an art that takes care, intention, and bravery. It can educate without words, it can radiate its own truth, and it can give indescribable delight. When it is done right, the result is irresistible: music that speaks for itself. Jacob is also Co-Music Director of the "categorically imaginative and radical" (New Yorker) Heartbeat Opera, which is fast becoming one of the most influential companies making opera today. As a soloist, Jacob appears in recitals and chamber music performances throughout the US. Jacob earned his masters and doctorate from the Yale School of Music under renowned violinist Ani Kavafian and studied baroque violin with Robert Mealy as a member of the Yale Baroque Ensemble. Previous degrees include a Performer Diploma from Indiana University and a Bachelor's from Manhattan School of Music.
Jacob's lecture precedes his performance with Cantata Profana and UMBC faculty members Lisa Cella and Airi Yoshioka on the Livewire Festival at UMBC's Linehan Concert Hall at 7:30pm on Friday, October 22nd.
---
CLEFT: An Art & Engineering Collaboration, Tuesday, October 5, 7 – 8pm, Center for Art, Design, and Visual Culture & streamed via YouTube
 Are we becoming an extension of the machine or the other way around?
Artist Annet Couwenberg posed this question as she began a unique collaboration in Fall 2020 with UMBC engineering students led by Professor of Mechanical Engineering Tim Topoleski with the assistance of software developer and engineer Alan Grover to create her interactive sculpture Cleft. Join us for a lively conversation with Annet Couwenberg, Alan Grover, Dr. Topoleski, and participating student Myles McVey to learn more about the process behind Cleft's creation, which will be on view in her exhibition Annet Couwenberg: Sewing Circles at the Center for Art, Design, and Visual Culture at UMBC in Fall 2021. The conversation will be moderated by Lori Rubeling, curator of the exhibition and Professor of Art and Communication Design at Stevenson University.
Cleft (2016-21) is based on a Dutch ruffled collar as an example of a piece of clothing acting as both a constraint and a beautiful enhancement. Based on the concept of clothing as metaphor, the work examines the precarious balance between the constraints of social norms and our private desires. There is an intertwined yet conflictual relationship between immigration and citizenship, a state of anxiety that defines our contemporary condition. By putting the audience in charge as the "digital puppeteer," Cleft explores the untangling of this conflict between self-determination and dependency through the syntax of the body, and the boundaries of our social interactions through computer software, which translates our 'movements'.
Born in the Netherlands, Annet Couwenberg received MFA degrees from Cranbrook Academy of Art and Syracuse University. She received a Smithsonian Artist and Research Fellowship in 2014. Her work has been exhibited nationally and internationally, including at Gyeonggi MOMA (Ansan, Korea), HOMA Museum (Seoul, Korea), Museum of Arts and Design (NYC), Delaware Center for Contemporary Arts (Wilmington, DE), 28th Street Studio (NYC), Contemporary Museum (Baltimore, MD), City Gallery (Atlanta, GA), Decorative Arts Museum (Little Rock, AR), Textile Museum (Tilburg, NL). Her work has been reviewed widely, including in Le Monde, Los Angeles Times, The Washington Post, New York Times, Christian Science Monitor, Baltimore Sun, The Atlanta Constitution, Philadelphia Inquirer, Fiberarts, Surface Design, The Journal of Cloth and Culture and Sculpture Magazine. Telos Art Publishing published a monograph on her work in 2003.
Lori Rubeling has been collaborating and teaching art and design curricula with communities and a variety of educational institutions for over 30 years. Her expertise in design education is entrepreneurial and interdisciplinary when collaborating with communities as they seek to research, prototype, test or implement communication programs or design projects. Community clients include Carroll Mansion, Case[werks] Gallery and Showroom, D Center Baltimore, Irvine Nature Center, the Northeast Regional Honors Council, North Charles Business Committee, SHAG: Society for History and Graphics, and Station North Arts and Entertainment District.
Dr. L.D. Timmie Topoleski is a Professor in the Department of Mechanical Engineering at UMBC. His research interests are to understand fundamental mechanisms of material behavior, and use that understanding to create new materials to solve problems based on materials performance and longevity.  His work is focused on biomaterials: both materials that are manufactured to be implanted in the human body, and understanding human tissues as materials.
Alan Grover has been a professional programmer for far too long, on too many platforms. He currently practices in the open-source world. In recent years, he has been a technical assistant to a few artists, and for classes at the Maryland Institute College of Art (MICA).
---
CIRCA Presents: Pioneer Winter, Friday, October 1, 12 – 1:30pm, recording
Pioneer Winter will speak about his work as the Artistic Director of the Pioneer Winter Collective, an intergenerational and physically integrated dance-theater company, rooted in social practice, community, queer visibility, and beauty beyond the mainstream. Pioneer Winter's work democratizes performance in public spaces, museums and galleries, stage, and film. A major objective continues to be expanding the definition of all that dance is and can be so that all bodies survive, thrive, and are witnessed in spite of constant erasure based upon race, body type, age, and ability. 
Pioneer Winter (he/they, b. 1987) is a Miami-based choreographer and artistic director of Pioneer Winter Collective, an intergenerational and physically integrated dance-theater company, rooted in social practice and community, queer visibility and beauty beyond the mainstream. Recognized in Dance Magazine's 25 to Watch, Pioneer Winter's work democratizes performance in public spaces, museums and galleries, stage, and film. A major objective continues to be expanding the definition of all that dance is and can be so that all bodies survive, thrive, and are witnessed in spite of constant erasure based upon race, body type, age, and ability – this goes for both the artists as well as the audience. Pioneer has been commissioned by Miami Theater Center, Karen Peterson and Dancers, Tigertail Productions, Jacksonville Dance Theatre, FundArte, and the Adrienne Arsht Center for the Performing Arts, where Pioneer is the Center's first Artist-in-Resident collaboration in a decade. Pioneer Winter's work is supported by local, state, and foundation grants and fellowships. Most recently, PWC premiered Birds of Paradise (Sep 2021), commissioned by the Arsht Center and supported by NEFA's National Dance Project Award, MAP Fund, and the Knight Foundation. Pioneer earned a Masters in Public Health and Epidemiology from Florida International University's Stempel College of Public Health (2009) and Master of Fine Arts in Choreography from Jacksonville University/White Oak (2016). An extension of his creative practice, Pioneer has curated and directed ScreenDance Miami Festival since 2017, presented by Miami Light Project; Pioneer's own films screen internationally. Pioneer serves as Assistant Teaching Professor in the Honors College and College of Communication, Architecture + The Arts at Florida International University. Pioneer is affiliated faculty at the Center for Humanities in an Urban Environment (CHUE) and an inaugural Fellow in the Miami Studies Program.
---
Thing Theatre Workshop, Saturday, June 26, 10:30am – 12:30pm, Maryland Art Place (MAP), free
Puppetry artist Colette Searls (UMBC Theatre) and designer Kelley Bell (UMBC Visual Arts) will guide participants in this in-person workshop to make "disposable puppets," bring them to life, and build them a tiny modular home! Open to artists and non-artists alike. This workshop is supported by the Maryland State Arts Council through a Maryland Traditions Folklife Network Grant.
Colette Searls is Associate Professor and Chair of Theatre at the University of Maryland, Baltimore County (UMBC) where she teaches acting, directing, and puppetry, and has devised award-winning object theatre performances. She has received grants from the Jim Henson Foundation and Puppeteers of America for her original works in object theatre, and published and lectured internationally on the intersections between animation, puppetry, and special effects for film. In collaboration with animator Lynn Tomlinson and UMBC's Imaging Research Center, she has created an award-winning digital puppet app which has been used in her live performances and presented at conferences internationally. Her book, A Galaxy of Things: the Power of Masks and Puppets in Star Wars and Beyond is forthcoming with Routledge Press in 2022.
Kelley Bell is a graphic designer, projection artist and Associate Professor of Art at UMBC. Her animated work appeared in and literally on Baltimore City in two series of public guerilla-style projections: White Light, Black Birds and Rise and Fall of the Land of Pleasant Living. These projects compared the benefits and downsides of urban development through imagery and animations projected on specific sites facing transformation (or destruction) due to economic and cultural factors. Kelley's animations have been screened locally and as far away as Berlin, Germany. Screenings include the American Visionary Arts Museum, the Annapolis Film Festival, The Transmodern Arts Festival, and the University of Maryland College Park. She was a recipient of the Maryland State Arts Council Individual Artist Award in 2004, and a semifinalist for the Sondheim Art Prize in 2010. Kelley holds an MFA from the University of Maryland, Baltimore County in Imaging and Digital Arts, and a BFA in Graphic Design from Pratt Institute. 
Thing Theatre, Thursday, June 24, 8:00 – 9:00pm EST, free
CIRCA presents Thing Theatre, a program featuring work from Maryland puppetry artists Schroeder Cherry, Dirk Joseph, and Colette Searls. These three short films celebrate the power of objects to express our shared humanity. Susan Stroupe will host the event and moderate a live Q&A with the artists. This event is supported by the Maryland State Arts Council through a Maryland Traditions Folklife Network Grant.
The Civil Rights Children's Crusade (Schroeder Cherry)
Material Witness (Dirk Joseph)
I Don't Need That Anymore (Colette Searls)
ARTISTS
Originally from Washington, D.C., Schroeder Cherry is a Baltimore-based artist who captures everyday scenes of African diaspora life. He earned a bachelor's degree in painting and puppetry from The University of Michigan;  a master's degree in museum education from George Washington University; and a doctorate in museum education from Columbia University. An award winning artist, his recent Barbershop Series received an exhibition at The Walters Art Museum in 2019 as a Sondheim finalist, and a one-man exhibition at Baltimore City Hall in 2020.  He was awarded the 2020 Municipal Art Society of Baltimore City Artist Travel Prize for research in Bahia, Brazil. His works are found in private and public collections across the US.
Dirk Joseph was born in Trinidad, grew up in NY and has been based in Baltimore for the last 16 years. For 3 decades he has worked as a visual artist, art teacher, performing artist (puppetry and theater), and a graphic designer. Dirk founded String Theory Theater in 2016 and has been performing children and adult puppet theater with his daughters and in collaboration with other artists. He is currently engaged in community arts via partnerships with The Youth Resiliency Institute, and Free Up Village Homeschool Coop, and other organizations.
Colette Searls is Associate Professor and Chair of Theatre at the University of Maryland, Baltimore County (UMBC) where she teaches acting, directing, and puppetry, and has devised award-winning object theatre performances. She has received grants from the Jim Henson Foundation and Puppeteers of America for her original works in object theatre, and published and lectured internationally on the intersections between animation, puppetry, and special effects for film. In collaboration with animator Lynn Tomlinson and UMBC's Imaging Research Center, she has created an award-winning digital puppet app which has been used in her live performances and presented at conferences internationally. Her book, A Galaxy of Things: the Power of Masks and Puppets in Star Wars and Beyond is forthcoming with Routledge Press in 2022.
Susan Stroupe is a generative theater maker, primarily working as a director, ensemble deviser, and teaching artist, who specializes in interdisciplinary, devised, and immersive theater. Throughout her career, Stroupe has also worked as a director, performer, dramaturg, writer, puppeteer, teacher, and collaborator in professional and professional community-based projects, with actors and nonactors of many ages, backgrounds, and many abilities and disabilities. Her focus and passion lies in theater in nontraditional spaces or arrangements, collaboratively devising pieces or working with scripts that challenge norms of race, gender, and genre.  Susan is based in Baltimore, and is an Artistic Associate of Subversive Productions and a long-time teaching artist for Baltimore Center Stage, in addition to being a freelance director for many companies in Baltimore and beyond.  She has a BA from Macalester College and an MFA in Theater Arts from Towson University, and is an adjunct lecturer for the UMBC Theatre Department.
---
Roberto D'yea, May 3, 1 PM – 2:15 PM, Zoom
Roberto M. D'yea (Tsi YOO Nah in Native Laguna Pueblo) has come from a long way home from Barstow, California. In April 2019, he proudly earned his Bachelor's Degree in Studio Arts at the University of Redlands, becoming the first generation in his family to earn a BA degree. His dream is to become an art professor to advocate for Native American, First-Generation, and People of Color students. For now, he is excited to learn concepts of community art as he teaches Manga and character designs at the Refugee Youth Project, here in Baltimore. Ultimately, he will continue his journey to earn his Master of Fine Art in Community Arts degree at Maryland Institute College of Art and say… "I did it." Sponsored by American Studies, Public Humanities, Maryland Traditions, and the Dresher Center for the Humanities.
---
Noelle Mason, Monday, May 3, 6 – 7 PM, Zoom
In her multi-media work, Noelle Mason focuses on the subtle seductiveness of power facilitated by institutionalized systems of visual control, the insufficiency of images to communicate experiential layers of meaning, and the disruptive effects of such control on our responses to increasingly traumatic rifts in the American cultural fabric. In her talk "Contact with the Screen," Noelle will discuss the theoretical roots of her work in the Lacanian notion of the "Gaze" and its capacity to incorporate/implicate spectatorial desire, as well as the ways in which "the screen" can repress that desire. Noelle is Associate Professor of Sculpture at the University of South Florida and is the Founding Director and Curator of Parallelogram Gallery in Tampa, Florida. This talk is hosted by the Department of Visual Arts, Visiting Artists and Designers Committee. Hosted by Visiting Artist and Designers Committee, and sponsored by Department of Visual Arts and CIRCA.
---
CIRCA Presents: Marnie Ellen Hertzler and Corey Hughes, Wednesday April 28, noon – 1pm, Recording
Marnie Ellen Hertzler is a video artist, animator and filmmaker working in experimental narrative and hybrid documentary. Corey Hughes is director and cinematographer traversing narrative, documentary and experimental realms. The two will discuss their individual work as well as their director-cinematographer collaborations.
Marnie Ellen Hertzler is a video artist, animator, and filmmaker living and working in Baltimore, MD. Her films and animations often explore a multimedia approach to film presentation and distribution and has utilized live performance, installation, and web design to accompany her work. Her films have screened at Locarno Film Festival, Rotterdam International Film Festival, MoMA, SXSW and more. In 2018 Marnie was named one of Filmmaker Magazine's 25 New Faces of Independent Film. Influenced by her background in both psychology and fine arts, she creates films that act as cinematic platforms for the exploration of interpersonal relationships, the technology that defines us, and the inevitable end of it all. Her first feature film, Crestone premiered in March 2020.
Corey Hughes is a Baltimore based filmmaker and cinematographer creating short films and music videos floating between narrative, documentary, and experimental tendencies. His films have screened at International Film Festival Rotterdam, SXSW, New York Film Festival, Slamdance, Maryland Film Festival, and Locarno Film Festival, where he was awarded the Pardi di Domani Special Jury Prize. As a cinematographer, his credits include Theo Anthony's Subject to Review and All Light, Everywhere, as well as Marnie Ellen Hertzler's Hi, I Need to Be Loved, Dirt Daughter and Crestone. He graduated with a B.F.A. in Film & Video Arts from the Maryland Institute College of Art. Hughes has participated in international workshops including the NYU/FAMU 35mm Filmmaking Intensive in Prague, Filming in Cuba with Werner Herzog, and Robert W. Deutsch 2018 Baltimore Artist Retreat. His work has been featured by Adult Swim, Criterion Channel, The Eyeslicer, D E E P, The Fader, No Budge, Kinoscope, and in galleries including Macao Milano, That That Gallery, and Blum & Poe (Los Angeles).
---
Alternative Venues in the Visual and Performing Arts, Wednesday April 14, 5 – 6:30pm, Recording
The Covid-19 pandemic has been devastating for the arts in many ways, leading to postponements, cancellations, and the closing of arts venues. But it has also inspired innovative ways to bring art to audiences. This panel brings together the people behind four compelling examples, encompassing dance, music, theatre, and the visual arts.
Leaning Toward the Sky, U.S. Botanic Garden Commission, 2019 (photo credit: Mariah Miranda)
Colette Krogol and Matt Reeves (photo credit: Jonathan Hsu)
Orange Grove Dance is a multimedia dance company realizing visually athletic experiences through the lenses of dance, film, and design. Recognized for its powerful imagery and choreography, Orange Grove Dance creates unique, site-specific performances in which mythopoetic tropes and reality collide. Under the direction of Artistic Directors and 2020 Helen Hayes Award winners Colette Krogol and Matt Reeves, Orange Grove Dance has presented their work on concert stages, in museums, black box theaters, film festivals, underground tunnels, city streets, public parks, and botanical gardens. Their work has been presented internationally, in locations including Rauma, Finland, Brooklyn, New York, Washington, D.C., and Wuhan, China. In 2017, Orange Grove Dance was selected as the 'Audience Choice Award' winner of the 34th Annual Choreographers Showcase for their work Holding, Here, described by Dance Metro DC as a "magically spun… visual tale of suspension, tension, and community within a multilayered moving painting". Krogol and Reeves each hold Masters of Fine Arts in Dance from the University of Maryland and Bachelors of Fine Arts degrees in Dance from the University of Florida.
Emlyn Johnson (flute) and Dan (cello)
Emlyn Johnson and Daniel Ketter are the founders and co-directors of American Wild Ensemble. The ensemble's Music in the American Wild initiative began in 2016 with a commissioning and touring project inspired by and performed in American national parks, in honor of the National Park Service centennial. Since those initial tours performing in the great outdoors, from caves to mountaintops, American Wild Ensemble has continued to celebrate and reflect on American people, places, and stories by commissioning new works and performing them in site-inspired and site-specific locations, with the support of organizations including the National Endowment for the Arts, Chamber Music America, Mid-America Arts Alliance, and New Music USA. Recent projects have taken the ensemble to the old growth forests of Washington state and the lava fields of Hawaii Volcanoes National Park. In summer 2021 the ensemble will embark on a collaborative touring project commemorating the bicentennial of the state of Missouri. American Wild Ensemble aims to engage with audiences through the commissioning, programming, and production process, offering a cohesive experience that connects listeners to the spaces around them through music designed with those spaces in mind. The ensemble is comprised of young professionals who perform with orchestras, teach at universities, and freelance across the country. Ensemble directors Johnson (flute) and Ketter (cello) are both on faculty in the music department at Missouri State University.
The Institute For Counterfeit Memory, photo credit: Britt Olsen-Ecker
Lola B. Pierson's The Institute For Counterfeit Memory is a play in a box sent to audience members at their homes.  The piece chronicles the grief of what was lost to the pandemic and imagines what might have happened, but never did. Using an MP3 player, diagrams, and small props that the audience manipulates, the play asks the audience to be present with the feelings around everything we've missed this year, but also with what has arisen in its place. Lola B. Pierson is a playwright, writer, and director. Her work challenges theatrical form, incorporating elements of social media, performance art, visual art, switcheroos, and boredom. She is the co-founding Artistic Director of The Acme Corporation, a Baltimore-based theatre company that brings the professional, educational, and DIY communities together, presenting new plays and re-imagined classics. Pierson is a graduate of Baltimore School for the Arts, Bard College, and Towson University, she is passionate about the intersections of language, time, presence, and philosophy.
Shelter in Place Gallery, exhibition of work by Susan Metrican
Shelter in Place Gallery is a 1:12 scale, miniature but highly detailed and realistic gallery space that asks artists to create miniature works for display in exhibitions that are shared with the public via the Shelter in Place Instagram account. The gallery was founded in 2020 by Boston-based artists Eben Haines and Delaney Dameron. At a time when galleries and museums are closed, studios are often hard to access, and monetary and social resources for artists are slim, the miniature scale of Shelter in Place Gallery counteracts this so that artists don't necessarily need access to their studios to create work. Working from home at a reduced scale, artists are able to make much more ambitious work than they could ever afford to at full scale, let alone have shown in a commercial gallery in Boston. The goal of Shelter in Place Gallery is to allow artists to make the work they've always wanted to make. Since its inception, the mission of the gallery has grown as the art world continues to change drastically. They hope to continue to run a platform that makes both showing work and viewing work more accessible for all.
---
Curating in Community: George Ciscle, Sandra Abbott, and Ashley Minner, April 12, 5:30-7 PM, Zoom
Join us for a rich conversation on the development of public exhibitions and community-based curation. Sponsored by the Department of American Studies, Public Humanities, Maryland Traditions, the Dresher Center for the Humanities, and the Center for Art, Design, and Visual Culture.
---
CIRCA Presents: Pamela Z
Pamela Z is a composer/performer and media artist making works for voice, electronic processing, samples, gesture activated MIDI controllers, and video.
Artist Talk: Crossing Disciplines, Wednesday March 31, 4 – 5:30pm, Recording
Through video and audio examples and live demonstration, composer/performer and interdisciplinary artist Pamela Z will share her work and her process and will discuss the increasingly blurred lines between disciplines in her practice. Highlighting her use of voice, processing, gesture-based MIDI controllers, video, found objects, and sampled speech sounds, she will illustrate the various directions her work has taken over the years and offer a preview of what she's working on now.
Live Performance: Other Rooms, Thursday April 1, 7 – 8pm, Recording
Pamela Z will perform a program consisting of short solo works for voice, real-time electronic processing, sampled sounds, wireless gesture controllers. The performance, which will combine composed works with a few improvisational pieces, will include stand-alone concert-works as well as excerpts from her larger intermedia performance works.
Program:
Flare Stains (2010)
Typewriter / Declaratives (1995/2005)
Unknown Person (from Baggage Allowance, 2010)
Syrinx (from Voci, 2003)
Blink / Hairlights (2020)
Badagada (1988)
Other Rooms (2018)
Scared Song (by Meredith Monk, 1986 )
All works composed by Pamela Z and © Last Letter Music (ASCAP)
except Scared Song, by Meredith Monk
Pamela Z is a composer/performer and media artist working with voice, live electronic processing, sampled sound, and video. A pioneer of live digital looping techniques, she processes her voice in real time to create dense, complex sonic layers. Her solo works combine experimental extended vocal techniques, operatic bel canto, found objects, text, and sampled concrète sounds. She uses MAX MSP and Isadora software on a MacBook Pro along with custom MIDI controllers that allow her to manipulate sound and image with physical gestures. Her performances range in scale from small concerts in galleries to large-scale multi-media works in theaters and concert halls. In addition to her performances, she has a growing body of installation works using multi-channel sound and video.
---
Chelsea Pace: Lessons from a Decade of Staging Sex, Wednesday, February 24, noon – 1:30pm, Recording
Chelsea Pace, Assistant Professor of Movement in the UMBC Department of Theatre, will give an overview of her research on staging sex, the complicated nature of consent, interpersonal and institutional power dynamics, and boundaries. She will share the implications of that work in the realm of theatre and film, but also the potential applications of that work more broadly in academia and beyond.
Chelsea Pace is Co-Founder and Head Faculty of Theatrical Intimacy Education. A leading intimacy choreographer, coordinator, and educator, she has shared her work with thousands of theatre and film artists around the world from major studio sets and international workshops to indies and off-broadway. Chelsea has been developing ethical, efficient, and effective systems for staging intimacy for over 10 years, and her book, Staging Sex: Best Practices, Tools, and Techniques for Theatrical Intimacy was released in March 2020 from Routledge Publishing. Chelsea is the current President of The Association for Theatre Movement Educators and is the Assistant Professor of Movement at the University of Maryland Baltimore County. Her current book project focuses on building more ethical arts institutions.
---
Practices for Slow Encounters: A Festival for Camera & Body
In 2018, artist and archivist Cori Olinghouse and UMBC Assistant Professor of Visual Art Jules Rosskam formed a long-term research collaboration. Bringing their respective forms of documentary filmmaking and performance into conversation they ask: "How do we look with the body, not at the body?" Rosskam and Olinghouse will engage the diverse learning community of UMBC in their praxis-based research through a series of public programs including a screening of short film/video works and an experimental lecture. 
The Inter-view, Thursday March 11, 6 – 7:30pm
The Inter-view is a presentation on one facet of the research Jules Rosskam and Cori Olinghouse carried out for Practices for Slow Encounters. Over the course of this collaboration, 'the interview' surfaced as a character, slipping through multiple sites and manifestations. Pulling in ideas and practices from a multitude of sources, Olinghouse and Rosskam explore what might constitute an embodied witnessing, what strategies produce a slow encounter, and how to make present rather than represent. After the event, they will participate in a live Q&A, covering all aspects of the three-part program.
Sensate Cinema, Thursday, February 18, 6 – 7:30pm, Vimeo Live
Photograph by Simon Liu, pictured: Fallen Arches (2018)
[Image Description: A 35mm film still with collage-like layers. Saturated reds and pinks fill the frame. A small lamp with yellowish light glows against what looks to be a curtain. The image of a window appears like a portal in the background.]
Sensate Cinema is a program of contemporary short film and video works that use the cinema as a space for exploring connections between sensation and perception. Works by Mel Baggs, Sky Hopinka, Steffani Jemison, Simon Liu, Elliot Montague, and Jordan Lord blur oppositions between subject/object, orality/textuality, legibility/illegibility, and orientation/disorientation. Collectively they trace varied and distinct encounters on a horizon of co-presence.
List of films:
Mel Baggs, In My Language (2007, 8:37 min, video)

Sky Hopinka, When you're lost in the rain (2018, 5:05 min, HD video)

Steffani Jemison, 

In Succession

 (2019) (2019

, 

18:19 min, HD video)

Simon Liu, Fallen Arches (2018, 10:30 min, digitized from 35mm )

Elliot Montague, Well Dressed (2006, 10 minutes, digitized from color super-8 film)

Jordan Lord, After… After… (Access) (2018, 15:52 min, HD video)
Curators Cori Olinghouse and Jules Rosskam say this about the program:
This program exists as part of our on-going research project, Practices for Slow Encounters. As such, we have created–in collaboration with other artists and scholars–supplementary 'playlists' for each of the works in the above program. We do this, in part, to highlight the interdisciplinary thinking that undergirds our research methodologies, and as an offering to the filmmakers for participating in this program. These playlists are a practice (and process) of world-making; one we hope you will join in building. Each film currently has a Google Folder, where you will find materials that relate–sometimes explicitly, sometimes obliquely–to the work. Instructions for participation can be found inside the folder.
Open captioning in English will be provided at all times. Video introductions will additionally feature ASL interpretation. Fallen Arches contains rapidly changing, flashing images. After…After… (Access) includes audio description in English and a stroboscopic effect at around 8 minutes
Camera-Body, a workshop for cinematic arts and dance makers, March 10, 2020
This interdisciplinary workshop brings students together in a hands-on, movement oriented laboratory. Students will work with legendary club dancer Archie Burnett, Olinghouse, and Rosskam to explore the relationship between the empowered body and the responsive camera. Archie Burnett, known for his individual freestyle of voguing, waacking, and hustle, is a pioneer of Old Way Vogue, a style innovated also by his friend and collaborator, Willi Ninja, the grandfather of Voguing. Moving between fluid expressions of gender, and rhythmic stops and poses, Burnett angles his body in silky spirals, using "contrapposto" to perform for an imagined camera. Interweaving practices of embodiment and visual storytelling, this workshop explores the ways cinematic images are co-constituted between performers and filmmakers.
Cori Olinghouse is an artist, archivist, and curator working with performance and time-based media. Her work has been shown at Abrons Art Center, BRIC Arts Media, Brooklyn Museum of Art, Danspace Project, Knockdown Center, Lincoln Center, Microscope Gallery, New York Live Arts, Lower Manhattan Cultural Council, and Movement Research. In 2017 she founded The Portal, an artist-run initiative dedicated to poetic and creative forms of archiving. Recently, she collaborated with video artist Charles Atlas on a moving image installation of Trisha Brown's archival materials for "Judson Dance Theater: The Work is Never Done," at the Museum of Modern Art. Last year, she collaborated with Autumn Knight and the Studio Museum in Harlem on the performance acquisition and restaging of Autumn Knight's WALL—the first performance work to enter their permanent collection. She formally served as archive director for the Trisha Brown Dance Company (2009-2018), a company she danced for from 2002-2006. She holds an MA in Performance Curation from Wesleyan University and serves as visiting faculty at the Center for Curatorial Studies at Bard College.
Jules Rosskam is an award-winning filmmaker, educator and interdisciplinary artist interested in liminal spaces: the space between male and female, between documentary and fiction, between moving image and still. He is the director of transparent (2005), against a trans narrative (2009), Thick Relations (2012), Something to Cry About (2018), Paternal Rites (2018) and Dance, Dance, Evolution (2019). His work has been screened at the Museum of Modern Art, the Museum of Fine Art Boston, the British Film Institute, Arsenal Berlin, Hallwalls Contemporary Art Center, the Queens Museum of Art, the Museum of Moving Images, and hundreds of film festivals worldwide. He has participated in residencies at Yaddo, ISSUE Project Room, Marble House, PLAYA and ACRE. Rosskam's scholarly work has been published in Feminist Media Histories, Somatechnics, Women and Performance, and Transgender Studies Quarterly. Rosskam received a 2021 Creative Capital Award.
---
Grants Process Workshop for Arts and Humanities Faculty, Friday, February 19, noon – 1pm
This workshop for faculty at all career stages who are or will be seeking funding for arts or humanities research and scholarly projects. Participants will learn about the process and requirements for preparing and submitting external funding applications at UMBC. Presented by the CAHSS Dean's Office; the Dresher Center for the Humanities, the Center for Innovation, Research, and Creativity in the Arts (CIRCA); and the Office of Sponsored Programs/OVPR.
Topics will include
Proposal Planning and Development

 


Rachel Brubaker, Dresher Center, and Lynn Cazabon, CIRCA
Routing Grant and Fellowship Applications and Role of the Dean's Office
Preminda Jacob, Associate Dean for Research, CAHSS
Kuali Proposal Routing and Compliance Matters
Rebecca O'Brien, Grants and Contracts Manager, Office of Sponsored Programs/OVPR
Time will be provided for Q & A.
Questions?

 

Rachel Brubaker, Assistant Director for Grants & Program Development, Dresher Center
---
Fulbright Accelerator Workshop, Friday February 12, noon – 1pm
Learn about the 2022-23 Fulbright Core Scholar Program and other exciting Fulbright opportunities at this workshop for CAHSS faculty, presented by the Institute of International Education (IIE), which develops and implements the Fulbright program. IIE program officers will provide information on the upcoming competition cycle that starts in February 2021 and the Catalog of Awards. The presenters will share tips for preparing strong Fulbright applications, initiating outreach to international host institutions, and doing short- and long-term planning. Time will be given for Q&A.
Brian Souders, Associate Director for Global Engagement Opportunities in the Center for Global Engagement, and UMBC's Fulbright Scholar Liaison, will discuss support for faculty applicants. Lynn Cazabon, CIRCA Director and Professor of Visual Arts, will share her experience as a Fulbright Scholar at Liepaja University, Latvia in 2015.
Attendees will receive an email from IIE with a Zoom link the week of the workshop.
Contact Rachel Brubaker, Assistant Director, Dresher Center for the Humanities, with any questions.
The 2021 Fulbright Accelerator Workshop is co-sponsored by the CAHSS Dean's Office; the Center for Social Science Scholarship; the Center for Innovation, Research, and Creativity in the Arts; the Dresher Center for the Humanities; and the Center for Global Engagement.
---
Krzysztof Wodiczko: Distinguished Visiting Artist Lecture, Monday, February 1, 2021
Krzysztof Wodiczko is a world-renowned artist who has realized more than 90 large-scale projections on architectural facades and monuments around the world. Wodiczko's work has been featured in the Venice Biennale, the Whitney Biennial, the Hirshhorn Museum, and the Museum of Modern Art. Wodiczko is Professor in Residence of Art, Design and the Public Domain at the Graduate School of Design at Harvard University and Professor Emeritus at MIT. This presentation was co-sponsored by CIRCA, the UMBC Intermedia and Digital Art [IMDA] MFA Program and the Department of Visual Arts.