Friday, November 12, 12 – 1pm, Recording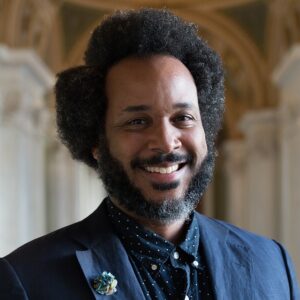 UMBC Diversity of the Arts Fellow Tahir Hemphill will discuss his multifaceted practice as a creative technologist, multimedia artist, and design researcher in a lively conversation with UMBC Assistant Professor of Information Systems Foad Hamidi, and writer, programmer and long-time collaborator David Goldberg. Hemphill's work investigates the role systems play in the generation of form and the role collaborative knowledge production plays in the resilience of communities. 
Hemphill's Rap Research Lab is a community-based creative technology studio that uses a Hiphop framework to develop new ways for people to engage with data and culture. Rap Research Lab builds on Hiphop's legacy as a transformative and innovative genre that revolutionized global cultural practices by pioneering new, 21st century digital forms by harnessing big data, artificial intelligence, robotics, natural language processing, and social networks to create opportunities for cultural research, creative competition, individual expression, and collaborative problem solving. Previous to coming to UMBC, Tahir was the 4th Chair in Education at the Library of Congress,  Verizon 5G EdTech Challenge winner, Saul Zaentz Innovation Fund in Film and Media Studies Fellow, LACMA Art + Technology Lab Grantee, Autodesk Pier 9 Artist-in-Residence, Rockefeller Foundation Bellagio Center Behavioral Science Resident, Spotify Media Artist-in-Residence, National Endowment of the Arts Art Works Grantee, Fellow at the W.E.B. Du Bois Institute for African and African American Research at Harvard University, Creative Capital Awardee, and Eyebeam Artist-in-Residence. His work was featured in the Talk to Me exhibition at the Museum of Modern Art, which explored design and the communication between people and objects. His current project Mapper's Delight is a sculptural data visualization tool built on semantic relationships of thousands of rap lyrics. It shows how rappers cover the globe with references to cities, neighborhoods and regions, using augmented reality to put music and language at your fingertips. Explorers can discover how the world's most popular form of poetry and performance engages language arts, STEM, and cultural and data literacy for the 21st century.
Foad Hamidi is an Assistant Professor in the Information Systems Department at UMBC and is director of the Designing Participatory Futures (DARE) lab. His research is focused on the participatory design and evaluation of emerging systems, including digital living media systems and adaptive systems, for different users including children and adults with and without disabilities.
David A. M. Goldberg is a veteran cultural practitioner of hip-hop and a writer, teacher, programmer, and media developer who has used a lifelong interest in art, culture, and technology to transform the means by which people access, assess, and organize knowledge. He holds degrees in Computer Systems Engineering (B.S. Howard University 1993,) Visual Criticism (MA California College of the Arts 2002,) and recently completed his PhD in American Studies from the University of Hawai'i at Manoa.