Jaimes Mayhew, IMDA MFA '10 and Rahne Alexander
Wednesday, November 16, 2016 7:00 – 8:00 PM, followed by reception
PAHB 132, UMBC
IMDA MFA Program alumnus Jaimes Mayhew and Rahne Alexander will discuss their Baltimore Museum of Art installation Queer Interiors, which is presented as part of the BMA's Commons Collaboration initiative related to Imagining Home. The project conceived and produced by Rahne Alexander and Jaimes Mayhew is comprised of a larger-than-life bed, shelving and other furnishings, personal artifacts, and a multimedia wall quilt known as the Baltimore LGBTQI+ Home Movie Quilt. This component of the installation pays homage to Baltimore album quilts and the AIDS Quilt, with the aim of presenting a crowd-sourced multimedia portrait of the city's LGBTQI+ communities. The exhibition is now on view at the BMA through August 31, 2017.
Visual Arts Corrie Parks: Fluid Frames
Special Book Launch and Screening Event
Thursday, November 3, 2016 · 6:00 – 7:00 PM, Reception Follows
Performing Arts & Humanities Building : 132
CIRCA Presents Visual Arts professor Corrie Parks as she launches her new Focal Press book Fluid Frames at UMBC. Accompanying the book launch is a screening of experimental animation, which is a centerpiece to the publication.
Once the realm of a few stalwart artists, animating with sand, clay, and wet paint is now accessible for all filmmakers with an experimental frame of mind. Created directly under the camera with frame-by-frame stopmotion, this "fluid frame animation" provides a completely unique visual world for animators. While pioneering animators such as Caroline Leaf, Alexander Petrov, and Ishu Patel paved the way, the availability of frame capture programs, compositing software and digital workflow is opening up new avenues of exploration for artists of all experience levels. This book will walk you through setting up your studio, choosing and working with your materials, and combining the physical under-the-camera production with digital compositing and effects to enhance your animation.

– Fluid Frames, by Corrie Parks
Animator and author Corrie Francis Parks presents a collection of international short films from contemporary animators featured in the book Fluid Frames: Experimental Animation with Sand, Clay, Paint, and Pixels. Created with wet paint, sand, clay, and charcoal, these films dazzle the eye with light, color, and texture, connecting the physical materials to the narrative and visual trajectory of each film. These artists revel in the process of animation as much as the end goal of the audience's journey, leaving a memorable impact on not only our perception, but our deeper sensibilities. Q&A with the author will follow the screening.

Films:
Norman – Robbe Vervaeke – (Belgium, 10:00) – paint on glass
Tunnel – Maryam Kashkoolinia – (Iran, 7:20) – sand
Night Weaver – Joan Gratz – (USA, 6:00) – clay painting
The Well – Philippe Vaucher – (Canada, 12:10) – salt
A Tangled Tale – Corrie Francis Parks – (USA, 5:30) – sand
Ballad of Holland Island House – Lynn Tomlinson (USA, 4:19) – clay painting
Spring – Xin Li (Australia, 3:40) – paint on glass
Signum  – Witold Giersz (Poland, 14:00) – progressive drawing
Presenter Bio:
Corrie Francis Parks is an Assistant Professor in the Department of Visual Arts at UMBC and a freelance animator and photographer based in Baltimore. An alumna of Dartmouth College and University of Southern California, her award-winning films have been exhibited at over 100 national and international film festivals on every continent except Antarctica. She has been an artist in residence at the MacDowell Colony and Fundación Valparaíso, a Fulbright Fellow to New Zealand, and a recipient of a Sierra Foundation Grant for her work in experimental photography. Corrie's animation and photography emphasizes the integration of digital and traditional mediums and a dialogue between technique and mediums.
Following the screening, chat with the author and enjoy light reception fare.
Stephen Bradley and Kathy Marmor, introduced by Dr. Thomas Roth, Professor Emeritus, Department of Biological Sciences

Monday, May 2, 4:00 – 5:00 PM, Albin O. Kuhn Library Gallery, UMBC
Artists Stephen Bradley and Kathy Marmor will speak on The Glass Knife, an exhibition that reflects on the work of Keith Porter, known as the "father of cell biology". The title The Glass Knife refers to the sharp wedged-shaped glass tool used by Porter to prepare tissue samples. Dr. Thomas Roth will introduce the program, and situate Porter's research in the life of the young university, and in the discipline. Media artists Bradley and Marmor have structured their installation to illuminate Keith Porter's life-long relationship with the micro world of cells. The Glass Knife integrates select elements from Porter's archive to build a unified series of sculptures that allude to Porter's workstation that "sees" the cell and its organelles and the potential applications that Porter imagined. With The Glass Knife, Bradley and Marmor propose a model of imagination that embraces a vision mediated by technology that extends our seeing. The artists as curators offer metaphoric insight into Porter's scientific inquiry made possible with his ground-breaking use of the electron microscope that changed the world of cellular science.
Nate Sinnott and Eric Abele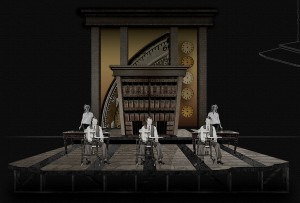 Tuesday, April 26, 2016 4:00-5:00 PM
Proscenium Theatre, PAHB, UMBC
Program:
Nate Sinnott and Eric Abele will discuss their design processes leading to the completed scenic and costume designs for the UMBC Theatre Department's Spring 2016 production of Eugene Ionesco's Rhinoceros. The design process for theatrical production begins many months prior to the opening of the live performance. Designs are generated in a collaborative environment with the director and the design staff. Materials such as research, drafting, scale models, and sketches are generated by the designer and reviewed by the collaborative team with the goal of creating a unified vision that will guide the production through the live performance. Eric and Nate will discuss the design process, display their process materials, and provide the audience with an onstage tour to view final design products.
Naughty Dog Studios' Marianne Hayden, UMBC '03 
In a special alumni focused CIRCA event
Monday, April 25, 2016 Noon – 1:00 PM
Performing Arts and Humanities Building room 102, Theater Rehearsal Studio
CIRCA Presents is a series championing important new work in the performing and visual arts. As UMBC celebrates its 50th anniversary CIRCA will highlight the accomplishments of exceptional Visual and Performing Arts alumni. A reception, with vegetarian options, will be provided by CIRCA. This event is co-presented with the Theater Department at UMBC.
Program:
Marianne Hayden, will discuss her work as a cinematics animator at Naughty Dog, one of the worlds leading video game companies, which is based in Santa Monica, California. She has worked on Uncharted 1,2,3,and 4, The Last of Us, The Last of Us: Left Behind, and many other titles. Hayden has contributed to the animation team, which has been awarded an Annie, BAFTAs, VGAs and numerous Game of the Year awards. She specializes in high quality, realistic, facial and animal animation.
Presenter Bio:
Marianne Hayden was an UMBC Linehan Artist scholar and graduated from UMBC in 2003 with a BA in visual arts and a BFA in theater. She continued her education at The California Institute of the Arts, earning her MFA in experimental animation in the Film/Video department. Marianne has worked at a range of studios, including Insomniac, Technicolor, Treyarch, Imagi, and Naughty Dog, Inc.
Along with being a professional animator Hayden uses her theater background to direct motion capture shoots as well as act on the motion capture stage. She earned her SAG card while on maternity leave, doing stunt work for Uncharted 3.
Marianne Hayden at IMDb.