Fall 2014 Events:
Creative Capital Webinar
Social Media: How to Be Everywhere All the Time,
with Eve Mosher
Monday, December 8, 7:00-8:30 PM
Location: Dresher Center Conference Room, PAHB 216
Led by artist Eve Mosher, this 90-minute webinar covers all aspects of using social media to communicate about your work and ideas; expand your audience, peer and professional network; and create a deeper connection with the general public.
ABOUT EVE MOSHER
Eve Mosher grew up on the borders of urban sprawl, watching the daily disintegration of wild in favor of cultivation in the form of suburban developments and strip malls. She holds an undergraduate degree in architecture and a Master in Fine Arts, and has lived in Texas, New York, Vermont, Oregon and California, all of which greatly influenced her interest in the environment by providing distinct and inspirational experiences. Upon her return to New York in 2005, she experienced culture shock from the lack of aggressive legislation and services vigorously addressing environmental issues. This new awareness influenced her transition to public, issue-based work.
Her projects have been profiled in international media, including the New York Times, The Discovery Channel,ARTnews, L'Uomo Vogue and Le Monde. Her  public and community based artworks have received grants from New York State Council on the Arts and New York Department of Cultural Affairs, both through the Brooklyn Arts Council and The City Parks Foundation. She has also had two projects selected as New York Foundation for the Arts fiscal sponsorship. If she was not pursuing a career as an artist, she would probably be studying the world around us in the role of either botanist or biologist.
November 6, 2014, Noon-1:00 PM
Jaimes Mayhew presented his current body of work, The Autonomous Energy Research Lab, which started as a project for a Fulbright Grant in Iceland in 2011 connecting  the landscapes of Iceland and those of the southwestern US that awakened his interest in the relationships between queer bodies and landscapes, memory and rural culture. Neja Tomšič a Slovenian artist, and the first CEC ArtsLink artist-in-residence hosted by UMBC's IMDA MFA Program, discussed the Museum of Transitory Art (MoTA), a multidisciplinary platform dedicated to the research, production and presentation of transitory, experimental and live art forms. 
CIRCA Catalyst: Cathy Cook, Visual Arts and Lynne Parks, Independent Artist
Monday, October 20, 2014 Noon-1:00 PM

Cathy Cook presented The Cranes in Motion Project, a collection of several hybrid media projects created at the Imaging Research Center that document, explore and artistically interpret the fascinating dynamics of crane culture in an effort to understand this unique species and our shared ecosystems. Lynne Parks is a Baltimore-based artist, environmental activist, and volunteer for Lights Out Baltimore. Her award winning photographs of birds draw our attention to how current building design practices exact fatal consequences on these creatures.
Monday, October 20, 7:00-8:30 PM
Dresher Center Conference Room, PAHB 223
Join Kickstarter Art Program Director Stephanie Pereira for an online primer on how to bring a Kickstarter project to life. The webinar will be projected in the Dresher Center Conference Room, and the CIRCA Director will provide pizza. Deep dive into a case study of a successful project and learn how to structure a campaign, what kind of rewards work best, how to spread the word, and other helpful tips.
DESCRIPTION
Kickstarter is a funding platform for creative projects. Everything from films, games, and music to art, design, and technology. Kickstarter is full of ambitious, innovative, and imaginative projects that are brought to life through the direct support of others.
ABOUT STEPHANIE PEREIRA
Stephanie is Kickstarter's ambassador to the fine-arts sector.  Prior to joining Kickstarter, Stephanie spent nearly a decade working in the nonprofit arts management sector, and most recently served as Associate Director, Learning and Engagement at Eyebeam Art and Technology Center in NYC. She holds an MA in Arts Administration from the School of the Art Institute of Chicago, and a BFA in Visual Art from Rutgers University.
CIRCA Professional Development Intensive
Friday, September 19, 2014 10:00 AM – 2:00 PM
Location: Apartment Community Center, "Gold Room". Located on Walker Avenue, opposite the Walker Avenue Garage
Event Schedule:
| | |
| --- | --- |
| 9:30 – 10:00 | Informal gathering, coffee, tea & light fare |
| 10:00 – 10:05 | Greetings, Tim Nohe, CIRCA Director |
| 10:05 – 10:15 | Welcoming remarks, Dean Scott Casper |
| 10:15 – 10:40 | Jeannie Howe, Executive Director, Greater Baltimore Cultural Alliance |
| 10:40 – 11:00 | Lisa Moren, Professor, IMDA MFA Graduate Program Director |
| 11:00 – 11:20 | Pamela Dunne, Program Director, Maryland State Arts Council |
| 11:20 – 11:40 | Eric Dyer, Associate Professor, Visual Arts |
| 11:40 – 12:00 | Krista Green, Assistant Director of Cultural Affairs, Baltimore Office of Promotion & The Arts |
| 12:00 – 12:30 | Lunch – Affinity Groups |
| 12:30 – 12:45 | Eve Muson, Assistant Professor and Susan McCully, Senior Lecturer, Department of Theater |
| 12:45 – 1:00 | Fronda Cohen, Director, Baltimore County Commission on Arts & Sciences |
| 1:00 – 1:15 | Carol Hess, Professor, Chair, Department of Dance |
| 1:15 – 1:30 | Priya Bhayana, Director, Bromo Tower Arts and Entertainment District |
| 1:30 – 1:45 | Ben Stone, Executive Director, Station North Arts & Entertainment District |
| 1:45 – 2:00 | Wrap up remarks, Q&A |
Spring 2020 Events:
Colette Searls, Department of Theatre and Lynn Tomlinson, Towson University
Thursday, May 8, 2014, 4:30 – 5:30 PM
The collaborative team presented virtual puppetry controlled by iPad for the stage and screen.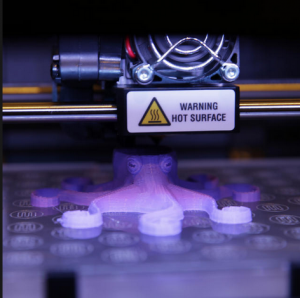 Jan Baum, 3D Maryland and Eric Dyer, Department of Visual Arts
Monday, May 5, 2014 Noon – 1:00 PM
Baum and Dyer surveyed the transformational work taking place with rapid prototyping and 3D printing, and shared dynamic new animations made with 3d output set into motion.
Steve Bradley, Visual Arts and Nicole King, American Studies

Monday, April 28, 2014
Bradley and King presented their collaborative Mapping Baybrook project, an interdisciplinary exploration of place that used digital mapping to illustrate research on the history and culture of an industrial community in Baltimore, Maryland referred to as Baybrook—a merging of the names of two neighborhoods, Brooklyn and Curtis Bay.
Linda Dusman, Department of Music  and Eric Smallwood, Department of Visual Arts
Wednesday, February 26, 2014
Dusman and Smallwood spoke on "Symphony Interactive" a tablet-based guide to the symphony experience.