Pamela Z is a composer/performer and media artist making works for voice, electronic processing, samples, gesture activated MIDI controllers, and video.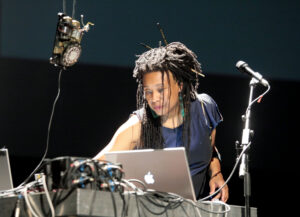 Artist Talk: Crossing Disciplines, Wednesday March 31, 4 – 5:30pm, Recording
Through video and audio examples and live demonstration, composer/performer and interdisciplinary artist Pamela Z will share her work and her process and will discuss the increasingly blurred lines between disciplines in her practice. Highlighting her use of voice, processing, gesture-based MIDI controllers, video, found objects, and sampled speech sounds, she will illustrate the various directions her work has taken over the years and offer a preview of what she's working on now.
Live Performance: Other Rooms, Thursday April 1, 7 – 8pm, Recording
Pamela Z will perform a program consisting of short solo works for voice, real-time electronic processing, sampled sounds, wireless gesture controllers. The performance, which will combine composed works with a few improvisational pieces, will include stand-alone concert-works as well as excerpts from her larger intermedia performance works.
Program:
Flare Stains (2010)
Typewriter / Declaratives (1995/2005)
Unknown Person (from Baggage Allowance, 2010)
Syrinx (from Voci, 2003)
Blink / Hairlights (2020)
Badagada (1988)
Other Rooms (2018)
Scared Song (by Meredith Monk, 1986 )
All works composed by Pamela Z and © Last Letter Music (ASCAP)
except Scared Song, by Meredith Monk
Pamela Z is a composer/performer and media artist working with voice, live electronic processing, sampled sound, and video. A pioneer of live digital looping techniques, she processes her voice in real time to create dense, complex sonic layers. Her solo works combine experimental extended vocal techniques, operatic bel canto, found objects, text, and sampled concrète sounds. She uses MAX MSP and Isadora software on a MacBook Pro along with custom MIDI controllers that allow her to manipulate sound and image with physical gestures. Her performances range in scale from small concerts in galleries to large-scale multi-media works in theaters and concert halls. In addition to her performances, she has a growing body of installation works using multi-channel sound and video.