Tuesday, September 20, 4 – 5:30 PM, Albin O. Kuhn Library Gallery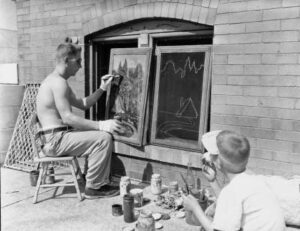 Join Elaine Eff, the foremost chronicler of painted screens for a tour of the sidewalks of East Baltimore, in search of this homegrown folk art known in no other modern American city. An artful anomaly, a source of privacy and ventilation, painted screens grew from the handiwork of a single Northeast Baltimore grocer in the summer of 1913 to hundreds of thousands of colorful landscape scenes created by known and unknown hands on their neighborhood's rowhouse windows and door screens. Consider how we as a community can support and maintain this Baltimore tradition for the future. The talk will be followed by a viewing of archival materials related to the history of painted screens which are part of the Maryland Traditions Archive housed in UMBC's Special Collections.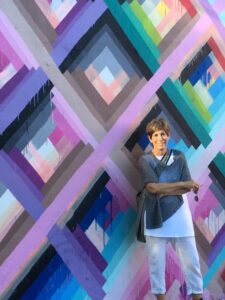 Elaine Eff has been documenting American folk art and artists since she began her professional career. Elaine received her MA in Museum Studies at Cooperstown Graduate Programs, her PhD in Folklore and Folklife at University of Pennsylvania, and did exhibition fieldwork and curatorial credits at Winterthur Museum, The Smithsonian, at state and regional folk art museums and in state arts agencies. She happened upon the unexplored topic of Baltimore's endemic folk art, painted screens, and has since ceaselessly worked to ensure the tradition's survival. Eff chronicled, preserved and presented traditional culture from posts in Baltimore City, the Maryland Historical Trust, the Maryland State Arts Council and UMBC's American Studies Department. She is particularly proud of her work with Smith Islanders, collaborating to create their local museum and incidentally catapulting the local "cake" to our state dessert. The Maryland Traditions Master Apprentice program and Heritage Awards originated during her tenure with the Maryland Folklife Program at the Maryland State Arts Council and are the subject of the forthcoming book that she co-edited with photographer Edwin Remsberg: Maryland Traditions: Folk Arts for the 21st Century. Elaine sees the pursuit of folklore not as a job, but a passion that continues unabated. Elaine's papers, the Painted Screen Society's papers, as well as photographs, and films are all part of the Maryland Traditions Archive, housed in UMBC's Special Collections in the Albin O. Kuhn Library.
This lecture is made possible with financial support from a 2023 Maryland Folklife Network Grant from the Maryland State Arts Council. CIRCA is committed to making its events accessible to everyone. Please send an email to circa@umbc.edu to request specific accommodations.