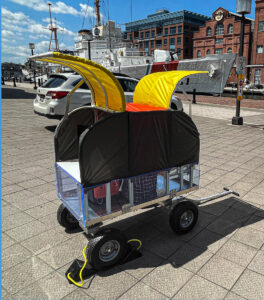 Bio-Buggy is a mobile art and science laboratory on wheels designed and envisioned by Associate Professor of Visual Arts Stephen Bradley and IMET scientist, Dr. Eric Schott and initially funded through the CIRCA-IMET Artist-in-Residence Fellowship at UMBC. The project was recently awarded a Chesapeake Bay Trust Community Mini Grant.
The goal of the Bio-Buggy is to increase the connection that urban residents feel for the living resources in nearby estuaries that they both enjoy and affect. We seek to accomplish this connection by inviting them to observe and listen to the small, sessile organisms in the estuary (harbor) with the aid of a mobile microscope, video screen, and hydrophone (underwater) listening device. Once drawn to the cart, a passer-by is invited by estuarine science and art students who will staff the device to follow their curiosity about what is in the harbor by interacting with the video-microscope, listening device and estuarian science. The buggy also serves as a scientific platform to collect video data on the biodiversity of the estuary. The data collection function is intended to enhance public engagement and invite their participation in the science of estuary. It is also a catalyst for discussions about all kinds of human-nature interactions, such as the effect of stormwater runoff on estuarine life, and how these inconspicuous organisms reciprocally enhance the water quality. 
Bradley and Schott will be presenting Bio-Buggy at the 2022 AZA Conference hosted by the National Aquarium and Maryland Zoo August 27 – September 1.