Wednesday, March 8, noon – 1:00pm, Performing Arts & Humanities Building 216, lunch provided
UMBC Associate Professor of Art Stephen Bradley and UMCES Associate Research Professor Dr. Eric Schott will speak about their collaborative project BioBuggy, a mobile art and science laboratory on wheels. The project is the result of a unique Artist-in-Residence Fellowship co-sponsored by the Center for Innovation, Research, and Creativity in the Arts (CIRCA) and the Institute of Marine and Environmental Technology (IMET).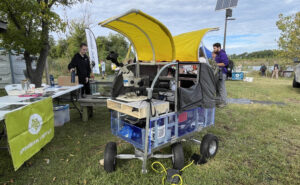 The big picture goal of BioBuggy is to increase the connection that urban residents feel for the living resources in nearby estuaries that they both enjoy and affect. Bradley and Schott seek to accomplish this connection by inviting the public to observe and listen to the small, sessile organisms in the estuary (harbor) with the aid of a mobile microscope, video screen, and hydrophone (underwater) listening device. Once drawn to the cart, a passer-by is invited by estuarine science and art students staffing the device to follow their curiosity about what is in the harbor. The BioBuggy also serves as a scientific platform to collect video data on the biodiversity of the estuary. The data collection function is intended to enhance public engagement and invite their participation in the scientific process. BioBuggy serves as a catalyst for discussions about all kinds of human-nature interactions, such as the effect of stormwater runoff on estuarine life and how these inconspicuous organisms reciprocally enhance the water quality. In May 2022, Bradley, Schott and community partners Friends of Garrett Park (Brooklyn, Maryland), and Middle Branch Imagined (Cherry Hill, MD) were awarded a Chesapeake Bay Trust Mini Grant Award to support programing and extended community engagement in 2022-23. Other key contributors to the project are Charmaine Dahlenburg, Director of Field Conservation, and Langston Gash, Conservation Technician, both at the National Aquarium.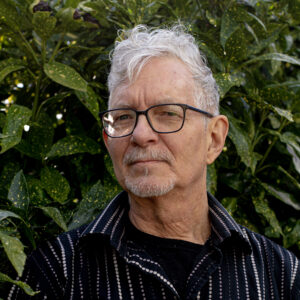 Stephen Bradley's art and community projects focus on the various aspects of place, including his practice of acoustic ecology to understand the effect of human detritus and noise in the landscape of our habitat. Through the lens of media arts within Bradley's place-based engagement, he has collected trash from different parts of the world, tagging and mapping the pieces as archaeological artifacts.  He has bound collected trash from specific sites into small bundles that resemble ancient cultures' fetish objects. Bradley investigates microplastics and biofilm growing on the materials in urban estuaries by documenting the micro-materials in the context of where the detritus is found. Bradley's more recent works are created in collaboration with community scientists, ecologists and social organizers translating and sharing art and science with residents of the places where his work originates from. Sonic elements in the environment, the soundscape, provides another major focus of Bradley's art practice. His sonic compositions are based in field recording and on-site aural performance. Using different technologies, such as a bat detector or specialized underwater microphones, he tunes into the micro sounds of different habitats and various ultrasonic sounds that critters emit to attract mates, potential prey and identify their territory. You can listen to a series of underwater Baltimore Harbor sound compositions that are part of the BioBuggy project here.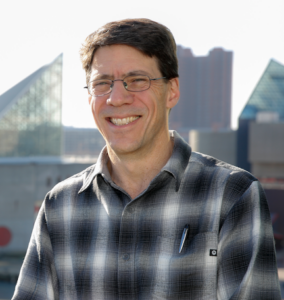 Dr. Eric Schott is a molecular geneticist and Associate Research Professor at the Institute of Marine and Environmental Technology (IMET) with an interest in the health and disease of estuary animals and with communicating science to fishing and urban communities. Schott has studied disease of the eastern oyster, and disease-causing microbes that can occur within oysters. His current research interests are the ecology of viruses infecting crustaceans, and with the health of urban estuaries, including the health of people who use them. Through long-term collaborations with watershed advocates and science educators in Baltimore, Schott is learning how to better communicate the science of water quality and biodiversity to nonscientists. He recognizes that even though the public is familiar with terms like "water quality", the scientific meaning is elusive. Schott believes that science communication should start with shared sensory experience and familiar concepts. For example, even if "fish" has different significance to different people, it is certain that everyone imagines the same thing when they hear "fish".  Using this concept and through collaborations with artists, Schott wants to bring more diverse voices into defining what a healthy estuary is and so scientists can do more relevant research.
CIRCA is committed to making its events accessible to everyone. Please send your request for specific accommodations to circa@umbc.edu.