Wednesday, May 3, noon – 1 PM, Performing Arts and Humanities Building 216, lunch provided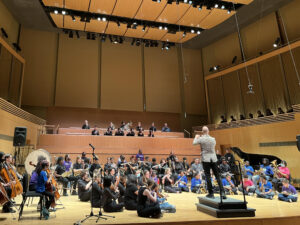 UMBC Associate Professor of Music Brian Kaufman will speak about his collaborative work researching inequities in K-12 music education festivals and organizing The UMBC CREATE Festival, the first music education festival of it's kind in Maryland to specifically promote and celebrate student voice through creative music-making by K-12 students and teachers involved in school and community organizations. The festival was co-designed and piloted by Kaufman in collaboration with students, classroom teachers, teaching artists, and researchers from Baltimore-based organizations including Baltimore Symphony's OrchKids program, Baltimore School for the Arts, and Booker T Washington Middle School.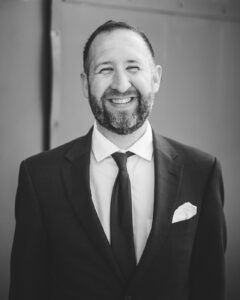 Brian Kaufman is an Associate Professor of Music at UMBC, specializing in Music Education, Conducting, and Tuba performance. Kaufman is co-founder, artistic director, and conductor of The Sounding Board, an organization that creates productions that integrate music, multimedia, spoken word, and commentary from noted public figures to inspire new perspectives and cultivate dialogue on today's most pressing social issues. Under his leadership, TSB events have run in partnership with organizations such as the United Nations, the City of Boston Mayor's Office, The Boston Globe, National Defense University, Tufts' Fletcher School, and the New England Conservatory. He has been a champion of new and innovative music, which has included conducting the world premiere of Daniel Bernard Roumain's Gilgamesh on the Crooked River at Cleveland's Museum of Contemporary Art. Kaufman led the UMBC Wind Ensemble in their debut album under the Albany label, featuring new works the ensemble premiered by the composers including Daniel Bernard Roumain, Glee music director-pianist Brad Ellis, and UMBC faculty members Dr. Anna Rubin and Dr. Janice Macaulay. As a tubist, Kaufman currently serves as a core member of the Maryland Winds, a professional wind ensemble led by Timothy Holtan. Kaufman has held several leadership roles with numerous pilot arts-in-education programs and professional organizations. He currently co-chairs the International Society for Music Education's (ISME) Music Education for Social Change Special Interest Group and serves as the Collegiate Chapters Representative for the Maryland Music Educators Association (MMEA). As a researcher, he has been involved with consulting and assessment projects for arts organizations nationally through the Center for Music in Education (CMIE). His co-edited book Music Learning as Youth Development (Routledge 2019) features chapters from an array of widely-celebrated, international scholars who share their perspectives on how music learning can best contribute to young people's social, emotional, cognitive, and artistic capacities. Brian received a CIRCA Summer Fellowship in 2021 to support his research in music education in Maryland.
CIRCA is committed to making its events accessible to everyone. Please send your request for specific accommodations to circa@umbc.edu.