Wednesday, April 27, noon – 1pm, Performing Arts and Humanities Building 216, lunch provided
Colette Searls will present research for her forthcoming book, A Galaxy of Things: the Power of Puppets and Masks in Star Wars and Beyond (Routledge Press, 2022).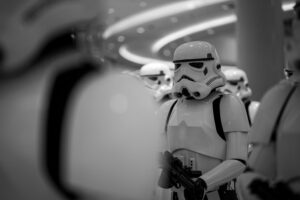 In the book, Searls promotes puppets, suit characters, and masked beings as  "material characters." Using Darth Vader, Yoda, C-3PO, and other material characters as case studies, the book demonstrates three particular powers they wield: distance, distillation, and duality. A close case study of Darth Vader's mask trajectory in the three trilogies (1977 – 2019) unpacks its essential role a "performing thing." Other material performances (droids, animals) introduce deeper themes about technology and empathy. The final chapter looks at how recent spinoffs and reboots, such as Neftlix's The Dark Crystal: Age of Resistance, and Disney+'s The Mandalorian, have centered material characters, celebrating old-school puppetry in this cinematic format of the streamed television series.
Colette Searls is Associate Professor of Theatre and head of the acting BFA at the University of Maryland, Baltimore County (UMBC) where she teaches acting, directing, and puppetry, and has devised award-winning object theatre performances. She has received grants from the Jim Henson Foundation and Puppeteers of America for her original works in object theatre, and published and lectured internationally on the intersections between animation, puppetry, and special effects for film. In collaboration with animator Lynn Tomlinson and UMBC's Imaging Research Center, she has created an award-winning digital puppet app which has been used in her live performances and presented at conferences internationally.
CIRCA is committed to making its events accessible to everyone. Please send an email to circa@umbc.edu to request specific accommodations.