Thursday, October 27, 12 – 1 PM, Performing Arts and Humanities 216, lunch provided
Moyenda Kulemeka

is an acclaimed costume designer based in Washington D.C. Her award winning designs have been featured at Signature Theatre, 1st Stage, GALA Hispanic Theatre, Mosaic Theatre, Adventure Theatre and others. In this presentation, Moyenda will give us a behind the scenes view of her process designing costumes for Trouble in Mind, by Alice Childress and directed by Danielle Drakes, playing in UMBC's Proscenium Theatre November 3 – 13.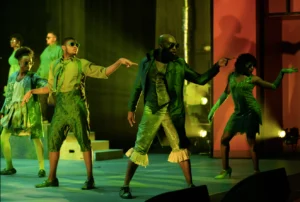 Moyenda recently produced costumes for the following productions: Intimate Apparel at Theater J, Dance Nation at Olney Theatre Co., John Proctor is the Villain at Studio Theatre, Daphne's Dive and Detroit '67 at Signature Theatre, Mlima's Tale, the Phlebotomist and The Brothers Size at 1st Stage, In His Hands, Marys Seacole and Fabulation, or the Re-Education of Undine at Mosaic Theater, A Chorus Within Her at Theater Alliance, Cinderella at Synetic Theater; Working, A Musical presented on Black Lives Matter Plaza, and La Tía Julia y el Escribidor and Exquisita Agonía at GALA Hispanic Theatre, among others. Moyenda holds a BA in Theatre from the University of Maryland and is a proud member of United Scenic Artists, Local 829, IATSE.
CIRCA is committed to making its events accessible to everyone. Please send an email to circa@umbc.edu to request specific accommodations.