Tuesday, March 1, 4 – 5 PM, Recording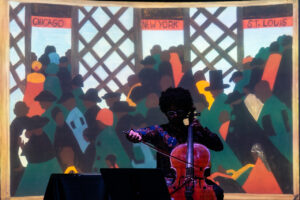 Internationally acclaimed cellist Seth Parker Woods will give us a behind the scenes view of Difficult Grace, a genre-bending and theatrical multimedia concert tour de force conceived by and featuring him in the triple role of cellist, narrator/guide, and movement artist, performing music written for and with Seth by Freida Abtan, Monty Adkins, Fredrick Gifford, Michael Gordon, Nathalie Joachim, and Pierre Alexandre Tremblay. Heightened by film, spoken texts, dance, and visual art by Jacob Lawrence, Barbara Earl Thomas, Zoë McLean, and Freida Abtan, Difficult Grace creates a vivid sonic and visual canvas that draws its inspiration from the Great Migration, archival research, immigration, and the poetry of Amiri Baraka and Dudley Randall.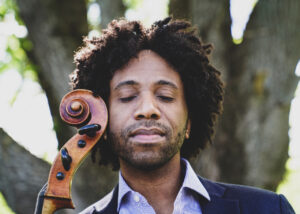 Recipient of the 2022 Chamber Music America Michael Jaffee Visionary Award and hailed by The Guardian as "a cellist of power and grace" who possesses "mature artistry and willingness to go to the brink," cellist Seth Parker Woods has established a reputation as a versatile artist straddling several genres. In addition to solo performances, he has appeared with the Ictus Ensemble (Brussels, BE), Ensemble L'Arsenale (IT), zone Experimental (CH), Basel Sinfonietta (CH), Ensemble LPR, Orchestra of St. Luke's, and the Atlanta and Seattle Symphony's. A fierce advocate for contemporary arts, Woods has collaborated and worked with a wide range of artists ranging from the likes of Louis Andriessen, Elliott Carter, Heinz Holliger, G. F. Haas, Helmut Lachenmann, Klaus Lang, and Peter Eötvos to Peter Gabriel, Sting, Lou Reed, Dame Shirley Bassey, and Rachael Yamagata to such visual artists as Ron Athey, Vanessa Beecroft, Jack Early, Adam Pendleton, and Aldo Tambellini.
Woods' 2021-22 season will include debuts at the Aspen Music Festival, The Britt Festival, 92nd Street Y, Harbourfront Theatre, Chamber Music Society of Virginia, Ojai Festival, Washington Performing Arts, The Strathmore, The Weisman Art Museum and Harvard. This season of performances will also include concertos by Rebecca Saunders and Tyshawn Sorey, and chamber music with violinist Hilary Hahn and pianist Andreas Haefliger. Woods will serve as Artist in Residence at the University of Miami's Frost School of Music and Northwestern University – Center for New Music.
In recent years, Woods has appeared in concert at the Royal Albert Hall—BBC Proms, Snape Maltings Festival, the Ghent Festival, Musée d'art Moderne et Contemporain, Le Poisson Rouge and the Bohemian National Hall, Cafe OTO, Huddersfield Contemporary Music Festival, Klang Festival-Durham, INTER/ actions Symposium, ICMC-SMS Conference (Athens, GR), NIME-London, Sound and Body Festival, Instalakcje Festival, Virginia Tech, La Salle College (Singapore), and FINDARS (Malaysia), amongst others. Recent awards include a DCASE artist grant, Earle Brown/ Morton Feldman Foundation Grant, McGill University-CIRMMT/IDMIL Visiting Researcher Residency, Centre Intermondes Artist Residency, Francis Chagrin Award, Concours [Re]connaissance-Premiere Prix, and the Paul Sacher Stiftung Research Scholarship.
His debut solo album, asinglewordisnotenough (Confront Recordings-London), has garnered great acclaim since its release in November 2016 and has been profiled in The New York Times, Chicago Tribune, LA Times, The Guardian, 5against4, I Care If You Listen, Musical America, Seattle Times, and Strings Magazine, amongst others.
In the 2021-22 season, Woods joins the faculty at the University at Buffalo as a Distinguished Visiting Scholar and Visiting Professor. He previously served on the music faculties of the University of Chicago, Dartmouth College and the Chicago Academy of the Arts. He holds degrees from Brooklyn College, Musik Academie der Stadt Basel, and a PhD from the University of Huddersfield. In the 2020-21 season he was an Artist in Residence with the Kaufman Music Center, and from 2018-2020 he served as Artist in Residence with Seattle Symphony and Creative Consultant for the interactive concert hall, Octave 9: Raisbeck Music Center.
CIRCA is committed to making its events accessible to everyone. Please send an email to circa@umbc.edu to request specific accommodations.