Friday, March 4,

12 – 1:30 PM EST, Recording
Four international artists and scholars, Dr. Tiffany E. Barber, Ayodamola Tanimowo Okunseinde (ayo), Kite, and Jonas Staal, will discuss this panel's titular terms in relation to their own work, expanding the terms however they desire, with moderator Safiyah Cheatam.
The term "speculative" has been applied to numerous fields of thought and action since ancient times. Aristotle and Plato debated the speculative nature of theory, versus the logical nature of praxis. The first 17th-century European settlers on the land we currently occupy in North America engaged in speculative finance to wrest land from its occupants, thereby colonizing it. In the last few decades, the adjective has been applied to more specifically visual fields of research, a development reflecting the term's Proto-Indo-European (PIE) root "spek" – to observe. From Speculative Design, a term coined in the 1990s by Anthony Dunne, who along with Fiona Raby promoted the practice at the Royal College of Art, to the Black Speculative Art Movement with its roots in Afrofuturism, as described by Reynaldo Anderson in 2016, visual culture ignited the idea of this panel to discuss "Speculative Histories and Futures."
Panelists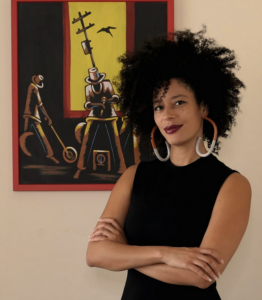 Dr. Tiffany E. Barber's work as a scholar, curator, and critic spans abstraction, dance, fashion, feminism, and the ethics of representation, with a focus on artists of the Black diaspora in the U.S. and broader Atlantic world. She has published in Rhizomes, InVisible Culture, TOPIA, Black Camera, ASAP/Journal, Dance Research Journal, Afterimage, and various anthologies, exhibition catalogs, and online publications. Her latest curatorial project – a virtual, multimedia exhibition for Google Arts and Culture titled Curating the End of the World – examines the value of Afrofuturism in times of crisis. She has a PhD in Visual and Cultural Studies from the University of Rochester and is Assistant Professor of Africana Studies and Art History at the University of Delaware, curator-in-residence at the Delaware Contemporary, and currently is a Postdoctoral Fellow at the Getty Research Institute, where she is completing her first book.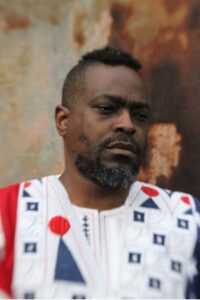 Ayodamola Tanimowo Okunseinde (ayo) is a Nigerian-American artist, designer, anthropologist, and time-traveler. His works, which range from painting and speculative design to physically interactive works, wearable technology, and explorations of "Reclamation," ask us via a technological lens to reimagine notions of race, identity, politics, and culture as we travel through time and space. He was the co-founder and creative director of Dissident Display Studios, an award-winning studio and art gallery in Washington DC, and is the co-founder and Director of Iyapo Repository, a resource library that exists in a nondescript future, founded to collect and preserve artifacts to ensure the history and legacy of people of African descent. He holds an M.F.A. in Design and Technology and an M.A. in Anthropology from The New School, where he is currently a Ph.D. student in Anthropology, and he is Assistant Professor of Interaction and Media Design at Parsons School of Design.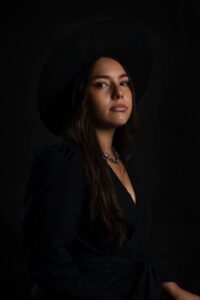 Kite, aka Suzanne Kite, is an Oglála Lakȟóta performance artist, visual artist, and composer raised in Southern California, with a BFA from CalArts in music composition and MFA from Bard College's Milton Avery Graduate School. She is currently a PhD candidate at Concordia University in Montréal, where she is a Research Assistant for the Initiative for Indigenous Futures. Kite's scholarship and practice investigate contemporary Lakota ontologies through research-creation, computational media, and performance. Recently, Kite has been developing a body interface for movement performances, carbon fibre sculptures, immersive video and sound installations, as well as co-running the experimental electronic imprint, Unheard Records. Kite has also published widely, including in The Journal of Design and Science (MIT Press), in which the award-winning article "Making Kin with Machines," co-authored with Jason Lewis, Noelani Arista, and Archer Pechawis, was featured.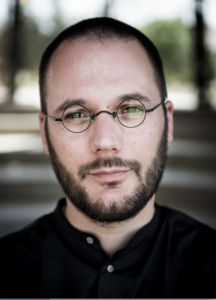 Jonas Staal is a visual artist whose work deals with the relation between art, propaganda, and democracy and has been featured in galleries and biennales internationally. He is the founder of the artistic and political organization New World Summit (2012–ongoing) and also, together with Florian Malzacher, co-directs the training camp Training for the Future (2018-ongoing); with human rights lawyer Jan Fermon, initiated the collective action lawsuit Collectivize Facebook (2020-ongoing); with writer and lawyer Radha D'Souza, founded the Court for Intergenerational Climate Crimes (2021-ongoing); and with Laure Prouvost, is co-administrator of the Obscure Union. He is the author of numerous books, most recently Steve Bannon: A Propaganda Retrospective (2018), Propaganda Art in the 21st Century (2019), and Training for the Future Handbook (2021), as well as essays, including "The Speculative Art of Assemblism" (2017). Based in the Netherlands, he completed his doctoral research on propaganda art at Leiden University's PhDArts program.
Moderator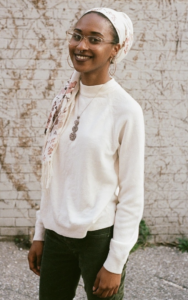 Safiyah Cheatam is a Baltimore-based conceptual and social practice artist, researcher, digital storyteller, arts educator, and afrofuturist. In her multidisciplinary art practice, she focuses on material culture and social phenomena involving Black Muslims in the United States, the role of Mundane / Afrofuturism in Black folks' daily lives, and the nuances of duality existing within Black and Muslim people. She is the co-producer of the podcast OBSIDIAN, which she began while completing her MFA in Intermedia+Digital Arts at UMBC. She currently serves as a Trustee of the Awesome Foundation in Baltimore and on the Islamic Art Advisory Committee at the Walters Art Museum, and is Program Coordinator for Maryland Citizens for the Arts.
Host:
Dr. Kathy O'Dell, art historian and critic, is Associate Professor of Visual Arts, as well as Special Assistant to the Dean for Education and Arts Partnerships, at UMBC.
This event is co-sponsored by UMBC Department of Visual Arts and CIRCA.
CIRCA is committed to making its events accessible to everyone. Please send an email to circa@umbc.edu to request specific accommodations beyond ASL interpretation, which will be provided.