Friday October 20, 7:30 PM, Earl and Darielle Linehan Concert Hall
As part of the 2023 Livewire Festival, the Department of Music and CIRCA presents this concert culminating Decoda's residency at UMBC, in which they will perform a set of songs from Lee Correctional Institute and Sing Sing Correctional Facility, Mysterious by Mario Diaz de Leon, Freedmen of the Five Civilized Tribes, New Addresses by Christopher Ceronne, Karakurenai by Andy Akiho, and Shorebirds by Brad Balliett. Their residency includes workshops with UMBC music students on community engagement, programming, creative collaborations with vulnerable populations, and performer-composer collaborations.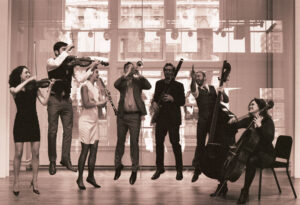 As an artist-led collective, Decoda seeks to create a more compassionate and connected world through music – thoughtfully curating outstanding performances of live chamber music, facilitating creative community projects, and training the next generation of musical artists to rethink and reimagine their role in society. Decoda was founded in 2012 by musicians who first collaborated as members of Ensemble Connect, a two-year fellowship program of Carnegie Hall, The Juilliard School, and the Weill Music Institute in partnership with the NYC Department of Education. Its work as an ensemble has grown out of this collective training, which focused on developing skills as exemplary performers, dedicated teachers, and passionate advocates for music in communities around the world. Decoda's versatile musicians are equally committed to virtuosic performance and audience engagement. Its flexible instrumentation, from trios to large mixed ensemble, allows for unique, inspiring and engaging concert experiences for a vast array of audiences, from concert halls to schools, hospitals, and correctional facilities. As alumni of Ensemble Connect and in recognition of its members' ongoing success as artists, educators, and advocates for music, Decoda is the only independent ensemble to be recognized as an affiliate ensemble of Carnegie Hall.
Decoda's past performances, creative community projects, and artist training residencies include engagements at the Southbank Centre and the Barbican (London), the Guildhall School of Music & Drama (London), Royal College of Music (Stockholm) Festspiele Mecklenburg-Vorpommern (Germany), WQXR, Abu Dhabi Music & Arts Festival (UAE), Mainly Mozart Festival (San Diego), Bay Chamber Concerts (Maine), Við Djúpið Festival (Iceland), Philadelphia Chamber Music Society, Caramoor Music Festival, Carnegie Kids @ Suntory Hall (Tokyo), National Center for the Performing Arts (Mumbai), Decoda Institute (South Africa), Programa de Educación Musical Fomento Cultural Banamex & Carnegie Hall (Mexico), Los Angeles County Museum of Art, Performing Arts Center at SUNY Purchase, Stony Brook University, University of Kentucky, Curtis Institute of Music, Yale School of Music, PeabodyInstitute of Music, University of Wisconsin-Madison, Chelsea Music Festival, Tertulia, Metropolitan Museum of Art, and National Sawdust in New York City.
CIRCA is committed to making its events accessible to everyone. Please send your request for specific accommodations to circa@umbc.edu.