Thursday, November 10, 4 – 5:30 PM, Zoom, recording
Skawennati investigates history, the future, and change from her perspective as an urban Kanien'kehá:ka (Mohawk) woman and as a cyberpunk avatar. Her early adoption of cyberspace as both a location and a medium for her practice has produced groundbreaking projects such as CyberPowWow and TimeTraveller™.  She creates machinimas—movies made in virtual environments—as well as still images, textiles and sculpture.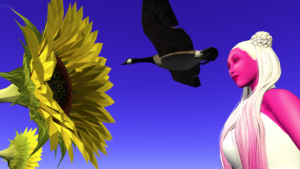 Skawennati's works have been presented in Europe, Oceania, China and across North America in biennials and solo exhibitions. Her work is included in the collections of the National Gallery of Canada and the Thoma Foundation, among others. Skawennati received a 2022 Hewlett 50 Arts Commissions Grant to create a new work "They Sustain Us," a hybrid performative work that will tell the traditional story of The Three Sisters, the ancient Iroquois (Haudenosaunee) representation of the traditional agricultural staples: corn, beans, and squash. In 2020, she was honored to receive a Smithsonian Artist Research Fellowship and a Visiting Artist Fellowship at the Eccles Centre for American Studies at the British Library. Recipient of an Honorary Doctorate from the Minneapolis College of Art and Design, she is also a proud member of the Guild of Future Architects. She is represented by ELLEPHANT. Her work was recently profiled in an article in Art in America.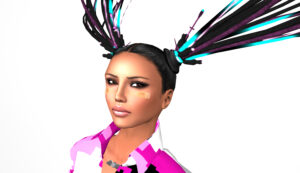 Skawennati co-founded AbTeC (Aboriginal Territories in Cyberspace), a research-creation network based at Concordia University whose projects include the Skins workshops on Aboriginal Storytelling and Digital Media as well as the Initiative for Indigenous Futures. Throughout most of the teens, she volunteered extensively for her children's elementary school, where she also initiated an Indigenous Awareness program. In 2019, she co-founded centre d'art daphne, Tiohtià:ke/Mooniyang/Montreal's first Indigenous artist-run center.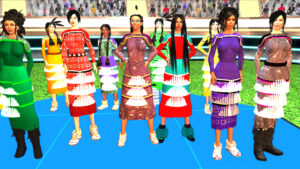 Born in Kahnawà:ke Mohawk Territory, Skawennati belongs to the Turtle clan. She holds a BFA from Concordia University in Montreal, where she resides.
This event is co-sponsored by CIRCA and the Department of Visual Arts. CIRCA is committed to making its events accessible to everyone. Please send an email to circa@umbc.edu to request specific accommodations.