Friday, April 29, 12 – 1:30 PM, open rehearsal, Earl and Darielle Linehan Concert Hall
Friday, April 29, 2:15 PM, performance outside on the terrace of the UMBC Commons, free
Saturday, April 30, 1:00 PM, performance at The Garage, 6 East Lafayette Ave, Baltimore, MD 21202, free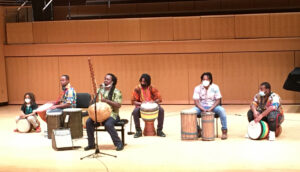 For the Spring 2022 semester, Amadou Kouyate has been the inaugural Maryland Traditions Artist-in-Residence at UMBC where he introduced Music and Dance students to the rich tradition of Manding culture, demonstrating the role the music and the practitioners, the Djeli, occupy in the cultural community. The results of this work will be shared with the public in these two free performances open to the public.
Performers: Chris Benna, Alfredo Ruiz-Malca, Valarous Lingham, A'mon Griffin, Connor Fuerst, Gretta Zinski, Gina Beck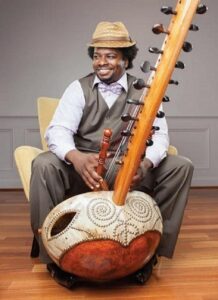 Amadou Kouyate is the 150th generation of the Kouyate family of Manding Diali, renowned oral historians and musicians of West Africa. Amadou performs on the 21-string Kora and also on Djembe and Koutiro drums. His repertoire spans traditional songs from the 13th century to original compositions incorporating blues and jazz. Amadou studied in Mali, Senegal, Guinea, and Cote d'Ivoire with master musicians of the Diali tradition including Djimo Kouyate and Toumani Diabate. Formerly a 2013-14 Strathmore Artist in Residence and Adjunct Lecturer of African Music and Ethnomusicology at the University of Maryland, Amadou pursues a full-time schedule as a solo artist and collaborator. A well-traveled performer, Amadou has brought his music to The Kennedy Center, Smithsonian Institution, Bristol Academy and Isle of Wight in England, Tim Festival in Brazil, as well as the Lowell, East-Lansing and Dayton National Folk Festivals. He collaborated with Sweet Honey in The Rock at Carnegie Hall and performed at the Victoria World Rhythm Festival.
The residency and performances are made possible with support from a Maryland State Arts Council Folklife Network Grant.