UMBC was awarded a Maryland Folklife Network grant for (FY) 2021 as one of five regional Folklife Centers to support activities that identify, document, support, or present the living cultural traditions of Maryland's diverse communities. Regional Folklife Centers are defined as continuing programmatic or educational efforts made by an organization to support traditional arts, or community-based living cultural traditions handed down by example or word of mouth.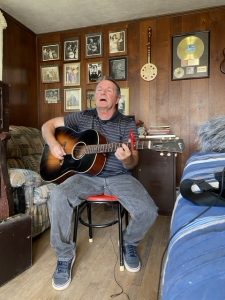 CIRCA will organize, promote, and manage the following activities supported by this year's grant:
Archival and research support for the Maryland Traditions Archive, which is housed within UMBC's Special Collections at the Albin O. Kuhn Library, for a future exhibition of the Ola Belle Reed collection. (Beth Saunders, Special Collections)
The creation of an accessible website documenting and showcasing Maryland Traditions (MT) projects in the Maryland Folklife Archive. (Bill Shewbridge, Media and Communications Studies)
The creation of a documentary film on Appalachian musician and songwriter, Ola Belle Reed (1916-2002) of Rising Sun, Maryland. (Bill Shewbridge, Media and Communications Studies)
Series of lectures and demonstrations by traditional artists and culture bearers. (Ashley Minner, Public Humanities, American Studies).
Found-object puppet performances and a public puppetry workshop. (Colette Searls and Susan Stroupe, Theatre).
Dave Reed, son of Ola Belle Reed (photo by Bill Shewbridge)