UMBC was awarded a Maryland Folklife Network grant for (FY) 2022 as one of eight regional Folklife Centers to support activities that identify, document, support, or present the living cultural traditions of Maryland's diverse communities. Regional Folklife Centers are defined as continuing programmatic or educational efforts made by an organization to support traditional arts, or community-based living cultural traditions handed down by example or word of mouth.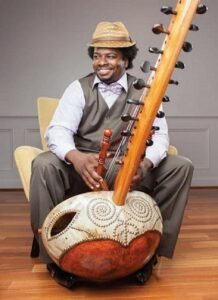 CIRCA will organize, promote, and manage the following activities supported by this year's grant:
A Graduate Assistant (GA) will provide archival support for the Maryland Traditions Archive (MFA), housed in UMBC's Special Collection. The GA will help process materials, including the Elaine Eff Papers and the Edwin Remsberg Collection, and make them publicly accessible. The GA will also assist with curatorial research and digitization for a planned exhibition on Ola Belle Reed at UMBC in Spring 2023. Special Collections will also collaborate with UMBC Public Humanities to organize a Community Archiving Day at the Baltimore American Indian Center (BAIC). A consultant will assist BAIC members in preserving their cultural heritage by archiving oral history interviews and other materials documenting the Baltimore Lumbee Indian community. (Beth Saunders, Special Collections)

UMBC faculty Nicole King and Bill Shewbridge and their students will develop a community-based
cultural documentation project in Southwest Baltimore for the Arabber Preservation Society. As part of
the ongoing Baltimore Traces project, the collaboration will document and preserve the work of the
Arabbers, Baltimore's horse-cart venders. (Bill Shewbridge, Media and Communications Studies; Nicole King, American Studies)

A series of lectures and demonstrations by traditional artists and culture bearers will introduce UMBC students and public audiences to the topics of Immigration and Artistry; the Lumbee Experience; Food, Migration, and Labor; Contemporary Indigenous Issues; and Art and Incarceration. (Sarah Fouts, Public Humanities, American Studies).

Traditional artist Amadou Kouyate will be in residence in the UMBC Music and Dance departments in spring 2022, where he will introduce students and the public to the rich tradition of Manding culture. Mr. Kouyate will demonstrate the role the music and the practitioners, the Djeli, occupy in the cultural community. Mr. Kouyate and UMBC students will perform in several Baltimore communities. He will perform in a public concert on November 13 at 7:30pm in UMBC's PAHB Concert Hall. (Lisa Cella, Music; Shaness Kemp and Ann Sofie Clemmensen, Dance)
Folklife Network grants fund organizations serving as regional folklife centers in Maryland. Grants are administered through the Maryland Traditions state folklife program and support activities that identify, document, support, or present the living cultural traditions of Maryland's diverse communities. Current regional folklife centers receiving Folklife Network funding are: Chesapeake Bay Maritime Museum (Talbot County), Common Ground on the Hill (Carroll County), Creative Alliance (Baltimore City), Frostburg State University (Allegany County), Sandy Spring Museum (Montgomery County); St. Mary's College of Maryland (St. Mary's County); University of Maryland, Baltimore County (Baltimore County); and the Ward Museum of Wildfowl Art, Salisbury University (Wicomico County).